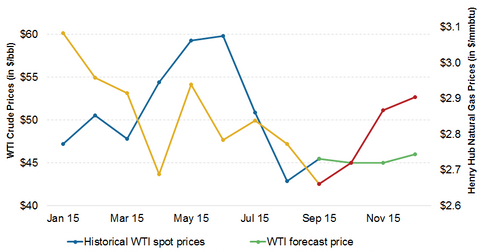 How Will KMI's Commodity Price Exposure Affect 3Q15 Performance?
By Kurt Gallon

Updated
Kinder Morgan's commodity price exposure
In the previous article, we talked about Kinder Morgan's (KMI) segment-wise 3Q15 expected performance. In this article, we'll look at the effect of KMI's commodity price exposure on its 3Q15 performance and its performance for the rest of 2015.
Kinder Morgan (KMI) operates like a toll road or a fee-based business with limited commodity price exposure. KMI's 2015 budget assumes $70 per barrel for crude and $3.8 per MMBtu for natural gas. These levels seem unachievable. However, ~85% of KMI's 2015 budgeted EBDA (earnings before depreciation and amortization) is fee-based while ~94% is fee-based or hedged.
KMI's businesses that are exposed to crude oil (USO) and natural gas prices (UNG) include:
Article continues below advertisement
CO2-based enhanced crude oil recovery (or EOR), which accounts for 67% of the CO2 segment's earnings and 11% of KMI's 2015 budgeted EBDA. KMI has hedged 81% of 2015 crude oil production volume at $78 per barrel and 57% of its 2016 volume at $76 per barrel.
Natural gas midstream, which accounts for 21% of the Natural Gas Pipelines segment's earnings. Activities include natural gas gathering, processing, and treating.
Kinder Morgan estimates that every $1 per barrel change in WTI crude oil will impact its distributable cash flow by ~$9 million and every $0.10 per MMBtu (British thermal units in millions) change in the price of natural gas will impact its distributable cash flow by ~$2.4 million.
Energy Transfer Partners (ETP), Targa Resource Partners (NGLS), DCP Midstream Partners (DPM), and MarkWest Energy Partners (MWE) are among the midstream companies that have exposure to natural gas prices through their natural gas midstream assets. ETP, NGLS, DPM, and EEP together make up ~19.8% of the Global X MLP ETF (MLPA).
Kinder Morgan's dividend coverage
Kinder Morgan projects a potential inadequacy in dividend coverage in 3Q15. But, KMI's businesses make the most money in 1Q and 4Q because of strong natural gas and NGL (natural gas liquids) demand during the winter. So, for the full year, KMI is still expected to have adequate coverage.