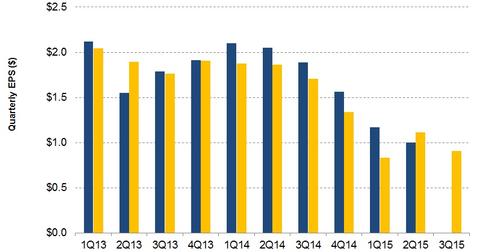 Will ExxonMobil's Expected 3Q15 Earnings Fall More?
By Alex Chamberlin

Updated
ExxonMobil's quarterly earnings
We discussed ExxonMobil's (XOM) revenue in the last part. In this part, we'll discuss ExxonMobil's expected 3Q15 EPS (earnings per share) estimates. In 3Q15, analysts expect that ExxonMobil's earnings could fall more. Its 3Q15 adjusted EPS is expected to be $0.91. This is 9% below the 2Q15 adjusted EPS and 52% below its 3Q14 adjusted earnings.
Starting in 1Q13, ExxonMobil's earnings have been a little volatile. The earnings were strong until 2Q14. Then, the earnings started falling—led by the fall in crude oil prices. In 2Q15, its adjusted EPS fell 15% from the previous quarter. Between 2Q14 and 2Q15, ExxonMobil's adjusted EPS fell 51%.
Article continues below advertisement
Adjusted versus estimates
As noted in the above graph, ExxonMobil's adjusted EPS fell short of estimates in some of the quarters in the past. On average, the adjusted EPS exceeded the consensus EPS by 5% in the past ten quarters. In 2Q15, the adjusted EPS fared worse than analysts' expectations. The adjusted EPS was $1 versus analysts' expectation of $1.13. ExxonMobil accounts for 22% of the Vanguard Energy ETF (VDE).
YPF S.A. (YPF) is ExxonMobil's smaller market cap integrated energy peer. It's based in Argentina. Currently, YPF's market capitalization stands at $7.6 billion compared to $333 billion for ExxonMobil. Compared to ExxonMobil's expected 52% 3Q15 adjusted net income fall over 3Q14, YPF's estimated 3Q15 adjusted net income is expected to fall 37% compared to the same quarter last year.
What to expect in 3Q15
Depressed crude oil prices will continue to take a toll on ExxonMobil's upstream segment's earnings in 3Q15. Although the downstream segment is benefiting from lower crude oil prices, it could see high scheduled seasonal maintenance—a temporary plant closure. The demand could slow down in China. Gasoline demand is also coming off its high as the winter season gradually sets in.
The US Gulf Coast 3:2:1 crack spread fell 42% during 3Q15. The crack spread only fell 4% during 2Q15. Again, this is negative for ExxonMobil's downstream segment's operations. The 3:2:1 crack spread reflects the difference between the cost of three barrels of crude oil and the price of two barrels of gasoline and one barrel of diesel. ExxonMobil's chemical segment may see lower earnings volatility—led by steady industrial and consumer demand and lower feedstock prices. In the next part of this series, we'll explain ExxonMobil's recent projects and project updates.