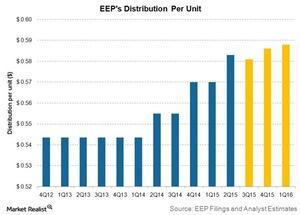 Will Enbridge Energy Partners Cut Its 3Q15 Distributions?
By Rekha Khandelwal, CFA

Oct. 27 2015, Updated 3:06 p.m. ET
Enbridge Energy Partners' 3Q15 distributions
Enbridge Energy Partners' (EEP) tentative date for the announcement of its 3Q15 distributions is October 30. The consensus estimate for its 3Q15 distributions is ~$0.58. This is 0.3% lower compared to its 2Q15 distributions, but 4.7% higher compared to its 3Q14 distributions.
The company believes that a large-scale drop-down from Enbridge Inc. (ENB) will not be initiated in 2015 considering the current market conditions. This may strain its distribution growth.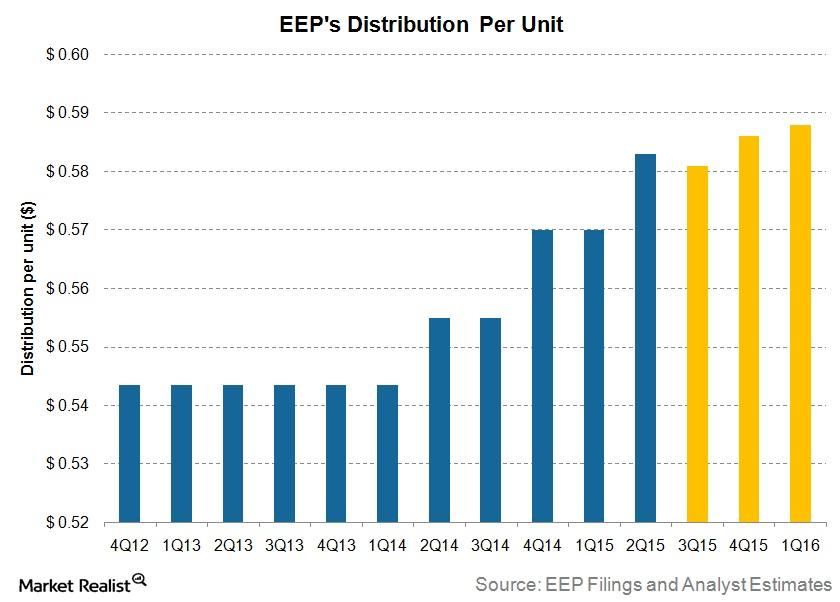 Article continues below advertisement
Possible marginal distribution cut
The consensus estimates indicate the possibility of a marginal distribution cut, as the graph above shows. Despite an expected EBITDA[1. earnings before interest, tax, depreciation, and amortization] growth in 3Q15, Enbridge Energy Partners' distributions are expected to be lower. The company's estimated distributions for 2015 are 4.3% over its 2014 distributions. Enbridge Energy Partners increased its distributions only three times in the last ten quarters.
Enbridge Energy Partners' distribution coverage
Enbridge Energy Partners had a distribution coverage ratio of 0.9 for 2Q15 and 0.96 for the first half of 2015. The MLP had a coverage ratio of 0.9 for the year 2014.
Enbridge Energy Partners expects its 2015 full-year coverage to be between 0.9 to 0.96 times. It aims for a long-term coverage ratio greater than 1.
Distribution coverage is the ratio of distributable cash flow to total distributions. A ratio below 1.0 is considered risky, as it shows that the MLP is distributing more cash than it's generating. Clearly, this can't continue in the long run. Enbridge Energy Partners' low coverage ratio is most likely the reason for consensus estimates of a distribution cut in 3Q15. Despite not raising dividends in two quarters of 2014, its 2014 coverage ratio is 0.9.
The MLP had a debt-to-EBITDA ratio of 4.4x in 2Q15. It announced closing a $1.6 billion offering in senior unsecured notes on October 6, 2015. Enbridge Energy Partners forms ~1.6% of the Global X SuperDividend US ETF (DIV).
Genesis Energy (GEL), Holly Energy Partners (HEP), MPLX LP (MPLX), and NuStar Energy (NS) are other MLPs involved in crude oil transport and related services.