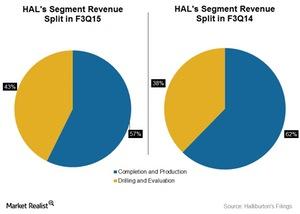 Will 4Q15 Dispel a "Murky" Outlook for Halliburton?
By Alex Chamberlin

Oct. 27 2015, Updated 2:06 p.m. ET
HAL's revenue split changes as revenue declines
We have already discussed Halliburton's (HAL) 3Q15 revenues, which decreased as reported in its latest financial release on October 19. In this article, we will discuss Halliburton's segment-wise performance through revenue split and its segment-wise operating income in 3Q15.
Halliburton's revenue split changed between its two segments from 3Q14 to 3Q15. The Completion and Production (or C&P) segment's revenue share declined 5% to ~57% in 3Q15 while the Drilling and Evaluation (or D&E) segment revenue share gained 5% to ~43%. Below, we discuss why the two segments' performance varied. Halliburton accounts for 2.1% of the Vanguard Energy ETF (VDE).
Article continues below advertisement
Halliburton's segment-wise analysis
From 3Q14 to 3Q15, the D&E segment revenue declined 27.3%, due primarily to a significant revenue decline in its North American operations. HAL's D&E segment revenue in the Middle East–Asia region was resilient, as its revenue remained unchanged from the last year. With respect to operating income, the D&E segment declined by 11% in 3Q15 over 3Q14.
From 3Q14 to 3Q15, the C&P segment revenue declined 41%, due primarily to a 51% segment revenue drop in North America. In 3Q15, all of Halliburton's geographic operations witnessed lower revenues in the C&P segment. So, the larger drop in C&P revenues explains the shift in revenue split. The C&P segment's operating income crashed, declining by a sharp 84% in 3Q15 over 3Q14. Read the following part of this series to learn why HAL's performance varied across geographies.
Compared to its 65% adjusted operating income decline for Halliburton in 3Q15 over 3Q14, Weatherford International's (WFT) 3Q15 operating income declined 79% compared to 3Q14. Weatherford International is a smaller peer of Halliburton. In 3Q15, WFT recorded $2.23 billion in revenue compared to HAL's $5.58 billion in revenue in 3Q15.
Article continues below advertisement
Factors that affected Halliburton's 3Q15 performance
Reduced upstream activity levels and lower pricing for most of HAL's product service lines in North America
Reduced logging services in the United States onshore market
Reduced cementing services activity in Mexico and Venezuela
Increased project management activity in the Middle East and Asia, including higher drilling activity in Saudi Arabia
Higher fluid services in Brazil and higher software sales in Colombia
What's in store for North America?
North America has been Halliburton's primary concern since energy producers slowed exploration and production activities largely in North America, following the sharp energy price fall. In the short term, the situation is expected to deteriorate for Halliburton.
Regarding the outlook for Halliburton in North America, the company's chairman and chief executive officer, Dave Lesar, commented in the 3Q15 conference call, "Looking ahead to the fourth quarter, visibility is murky at best. Based on current feedback, we believe most operators have exhausted their 2015 budgets, and will take extended breaks, starting as early as Thanksgiving. Therefore, our activity levels could drop substantially in the last five weeks of the year."