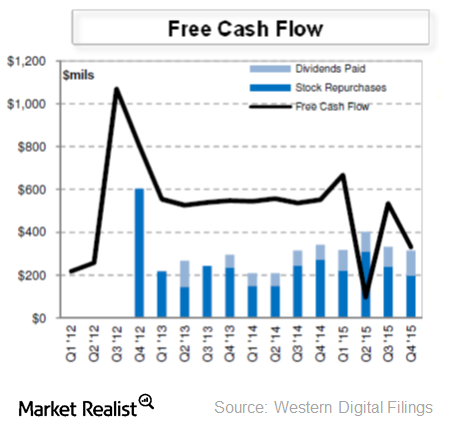 Western Digital's Fiscal 2015 Revenues, Cash Flow, and Operating Expenses
Declining fiscal 2015 revenues
For fiscal 2015, Western Digital Corporation (WDC) reported revenues of $14.6 billion and net income of $1.5 billion, or $6.18 per share. This compares to revenues of $15.1 billion and its net income of $1.6 billion, or $6.68 per share, in fiscal 2014. On a non-GAAP (generally accepted accounting principles) basis, the company's net income was $1.8 billion, or $7.76 per share, for fiscal 2015, compared to its net income of $2 billion or $8.10 per share in fiscal 2014.
In comparison, the diluted EPS (earnings per share) for SanDisk Corporation (SNDK) and Seagate Technology (STX) for fiscal 2014 were $4.23 and $5.26, respectively.
Article continues below advertisement
Cash flow from operations
Western Digital generated $488 million in cash from operations in 4Q15, ending with total cash and cash equivalents of $5 billion. The company utilized $198 million to repurchase 2 million shares of common stock, and on May 5, 2015, it declared a cash dividend of $0.50 per share, which was paid on July 15, 2015.
For fiscal 2015, the company generated $2.2 billion in cash from operations and utilized $1.4 billion for dividends and share repurchases in the period.
Operating expenses for 4Q15 and fiscal 2015
Western Digital spent $381 million on R&D (research and development) in 4Q15, compared to $426 million in 4Q14. The company's R&D expenses for fiscal 2015 were $1.64 billion, compared to $1.66 billion in fiscal 2014. Its SG&A (selling, general, and administrative) expenses declined by 5.94% YoY (year-over-year) in 4Q15—to $190 million from $202 million in 4Q14—whereas its SG&A expenses increased only marginally, to $773 million for fiscal 2015 from $761 million for fiscal 2014.
Western Digital makes up 0.50% of the Technology Select Sector SPDR ETF (XLK) and 0.35% of the Powershares QQQ ETF (QQQ). In the next part of this series, we'll look at the company's volatile 2015 stock activity.