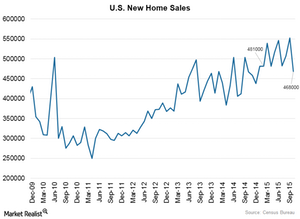 Weak Dollar Added Temporary Support to Copper Prices on October 26
By Val Kensington

Updated
Dollar down, copper up
On Monday, October 26, 2015, copper prices found support from the weak US dollar. The dollar declined on Monday in reaction to September's new home sales data, which the United States Census Bureau released that day. The report showed an 11.5% drop from August's new home sales data.
After gaining for two straight months, the new home sales data came at 468,000, well below the analysts' expectations of 550,000 sales, and fell to nearly one-year lows. This raised concerns about the strength of the US economy two days before the Federal Reserve policy meeting announcement.
Last week, the dollar surged to a two-and-a-half-month high after the European Central Bank announced its plans to extend its economic stimulus. On Monday, October 26, the disappointing home sales data kept the pressure on the dollar and resulted in the fall of the dollar index.
This weak sentiment of the dollar supported copper prices on Monday. LME 3M copper rose by 0.3% on Monday and closed at $5,191 per metric ton.
Article continues below advertisement
China's Central Committee and the FOMC meet this week
China's Central Committee meeting and the FOMC meeting are the major events scheduled this week that can impact base metal prices. The Central Committee meeting is scheduled to take place between October 26–29, during which time the country's ruling Communist Party discusses the economic and development plans for 2016–2020.
The important thing to look for in this meeting is the economic growth target for the next five years set by China's Central Committee. It also declares the social and economic targets for 2016–2020. As China is the top consumer of base metals, the outcome of the China's Central Committee meeting should have an impact on base metal prices.
What happens to copper prices if the Fed raises interest rates?
The FOMC meeting is scheduled for October 27–28, 2015, to reconsider the interest rate hike. In the last meeting held in September, the FOMC decided against an interest rate hike due to uncertainty over China's economic health. The Federal Reserve plans to release its policy statement after concluding its two-day meeting on Wednesday, October 28. In the case of a hike in interest rates, the US dollar should be strengthened and push copper prices back down.
The outcome of China's Central Committee meeting and the FOMC meeting should impact major base metal mining companies, including BHP Billiton (BHP), Glencore (GLEN), Freeport-McMoRan (FCX), and Rio Tinto (RIO), as well as the base metal ETFs such as the PowerShares DB Base Metals ETF (DBB).