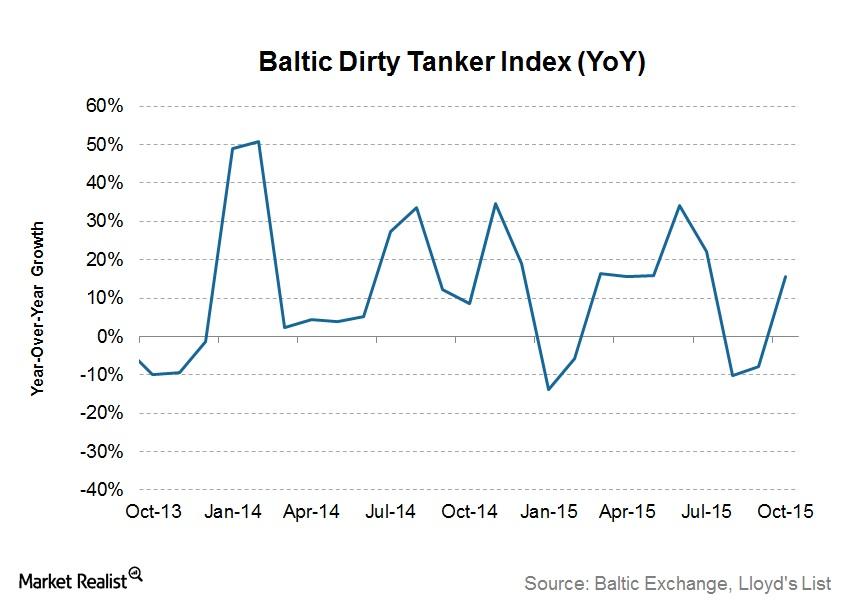 VLCC Rates Rise by 127% Month-over-Month, BDTI Rises 15% YoY
By Sue Goodridge

Nov. 20 2020, Updated 12:00 p.m. ET
Industry stock performance
The crude tanker stocks rose an average of 11% in September 2015. The top performer of the month was Teekay Tankers (TNK), which rose 22%. Tsakos Energy Navigation (TNP), Nordic American Tankers (NAT), and Euronav (EURN) rose 12%, 9%, and 10%, respectively, whereas Frontline (FRO) and DHT Holdings (DHT) saw prices rise by only 5% each. The stock prices are soaring with the rise in tanker rates.
Article continues below advertisement
BDTI
The BDTI tracks shipping rates for transportation of crude oil (DBO) on representative routes. Researchers and analysts follow the BDTI to assess crude tanker companies' revenues and earnings potential. On October 3, 2015, the BDTI came in at 745 points— a 15.5% YoY (year-over-year) rise and a 18.6% rise from the previous month, when the index was at 628 points.
Tanker rates
According to MJLF's spot market scorecard, VLCC rates (very large crude carrier) for the benchmark route Gulf to Japan rose from $49,400 per day last month to $112,100 per day for the week ending October 2, 2015 . Similarly, average Suezmax rates have risen from $21,200 per day to $35,450 per day for the same period.
More crude oil was purchased by Asian countries as Asian refinery margins recovered after a sharp fall in July. This increased the chartering activity in the West African market, which pushed up VLCC rates. According to MJLF report, in the last week the chartering activity ahead of Chinese National Day holidays was more robust than expected, which led to an unbelievable 48% rise in rates for the VLCC benchmark route.
The robust oil demand by Asian countries is expected to continue as refineries prepare for the peak season in November.
For a weekly update on the crude tanker industry, investors can visit our crude tanker page: MarketRealist.com/analysis/stock-analysis/industrials/crude-tankers/
Series overview
In this series, we'll analyze the impact of the Iranian nuclear deal, the lifting of the US export ban, on the crude tanker industry. We'll also look at where tanker values are heading and what it means for the tanker industry.
Since China is one of the largest importers of crude oil, we'll take a look at the Chinese economy with respect to its imports and oil consumption.