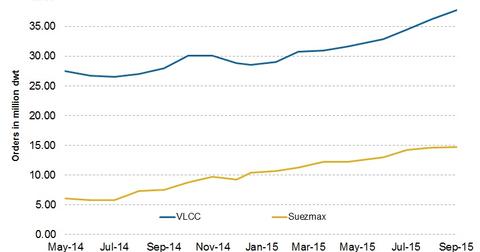 VLCC Orderbook Rises, Suezmax Orderbook Is Constant
By Sue Goodridge

Updated
Crude tanker orderbook 
The crude (DBO) tanker orderbook rose steadily for many months. The orderbook data tell us how many ships have been ordered and how many are under construction. The orderbook level helps us assess companies' expectations of future rates and industry profitability.
Article continues below advertisement
VLCC orderbook continues to rise 
According to data from Athenian Shipbrokers, the VLCC (very large crude carrier) orderbook rose in September to 37.8 million DWT (deadweight tonnage) from 36.2 million DWT in August 2015. The Suezmax orderbook also recorded a rise from 14.6 million DWT to 14.7 million DWT.
In September, 125 newbuild VLCCs were under contract—compared to 119 in August. Suezmax newbuilds under contract remained the same at 92 in September from the previous month. The pace of the rise in the Suezmax orderbook fell while the VLCC orderbook rose by around 4% every month for the past four months.
The orderbook rose for two reasons. First, newbuild vessel prices have remained low. Second, tanker rates have remained strong. As a result, companies have a positive outlook for the industry. A rising orderbook suggests that crude tanker companies have a positive outlook about the industry.
Is there a possibility of oversupply?
If the orderbook level continues to rise and demand doesn't rise at the same pace, we could see an oversupply of tankers in the market. This would obstruct the rise in tanker rates. It will have a negative impact on Frontline (FRO), Nordic American Tankers (NAT), Teekay Tankers (TNK), Euronav (EURN), DHT Holdings (DHT), and Tsakos Energy Navigation (TNP).