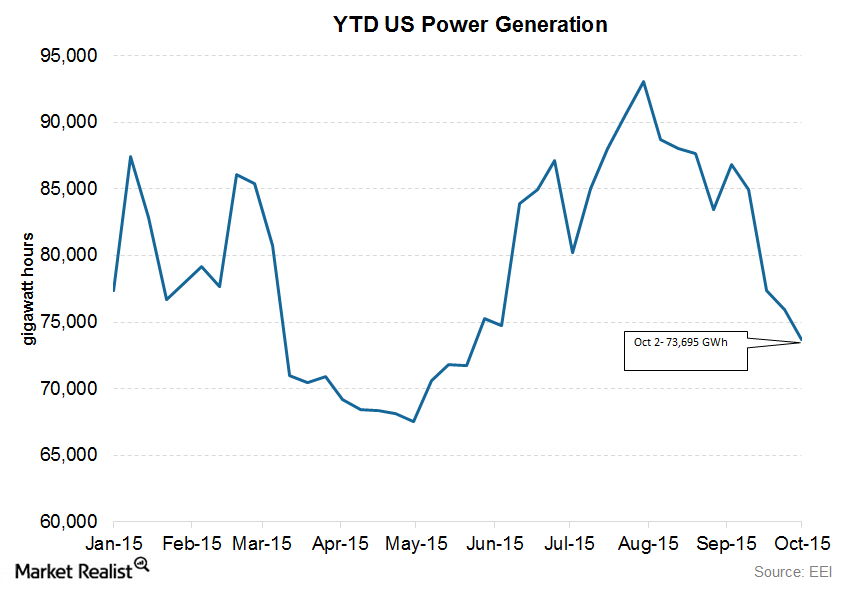 US Power Generation Declined 4 Weeks in a Row
US power generation
According to data released by the EEI (Edison Electric Institute), the United States generated 73,695 gigawatt-hours of electricity during the week ended October 2, 2015. That's 2.9% less than the 75,907 gigawatt-hours the country generated during the prior week. This was the fourth straight weekly decline in US power generation.
As we discussed in the previous part of this series, the latest natural gas weekly update showed that natural gas consumption from the power sector continued to fall through October 7. We'll likely see another drop in US power generation numbers in the week ending October 9.
On a year-over-year basis, the United States generated ~0.72% more power in the week ended October 2, 2015, than in the corresponding week in 2014.
Article continues below advertisement
Trends in US power production
According to the EIA (U.S. Energy Information Administration), a total of ~1.05 Bcf (billion cubic feet), or ~33.7 Bcf per day, of natural gas was consumed for the purpose of electrical power generation in July 2015 in the United States. It's interesting to note that of the ~1.9 Bcf delivered to end users in July, electricity generation accounted for ~55.6%.
In its monthly electrical update, the EIA also reported that power generation from natural gas increased in all regions of the United States in July, whereas power generation from coal declined in all regions during the same period.
Also according to the EIA, coal consumption is expected to fall by 8% in 2015. Electric power sector consumption of coal is expected to drop, owing to lower natural gas prices and increased electricity generation based on renewable energy.
The EIA forecasts that the share of coal-fired electricity in terms of overall power generation will average 35% in 2015, down from 38.7% in 2014. In contrast, natural gas should account for an average of 31.6% of power generation this year, up from 27.4% last year.
Natural gas versus coal in US electricity generation
Since electricity generation companies depend mainly on coal or natural gas to generate electricity, decreased electricity generation is likely to reduce demand for coal and natural gas. This would be negative for both coal and natural gas producers.
However, given that natural gas is a cleaner fuel and is abundant, it's expected to take market share away from coal in the longer term. This would be good for natural gas prices, as well as for natural gas producers such as Chesapeake Energy (CHK), Noble Energy (NBL), Range Resources (RRC), and QEP Resources (QEP). These companies make up ~2% of the Vanguard Energy ETF (VDE).
In the next and final part of this series, we'll look at rising US propane inventories.