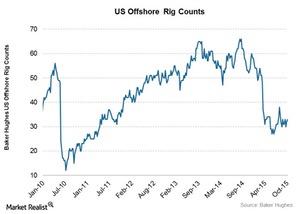 US Offshore Rig Count Rose Again Last Week
US offshore rig count
In the week ending October 16, 2015, one US offshore rig was added to the previous week's total, taking the count to 33 rigs. This marked the second weekly offshore rig count increase in a row. Offshore rig counts have averaged 32 over the past eight weeks.
The offshore rig count is 50% below its four-year high of 66 in August 2014. The US offshore rig count has increased only four times in the past ten weeks.
Article continues below advertisement
Offshore wells are more expensive than onshore wells, but they have much longer production lives. Offshore projects also have long lead times. Falling crude oil prices don't affect planned offshore projects in the short term. According to the industry news organization Rigzone, 31 new Gulf of Mexico wells' exploration permits were approved in 1H15. This figure remained unchanged from a year ago.
The Louisiana section of the Gulf of Mexico accounts for almost all US offshore drilling. According to the EIA's (U.S. Energy Information Administration) Short-Term Energy and Winter Fuels Outlook published in October, 12 projects are expected to come online in the Gulf of Mexico in 2015 and 2016.
Rig utilization
According to Rigzone, the utilization of jack-up rigs stood at 58% on October 16, 2015. In comparison, utilization was ~78% a year ago. Offshore rig counts indicate how busy rig operators such as Transocean (RIG) and Ensco (ESV) are at any given time. Offshore rig counts can also determine the activity levels of subsea oilfield service equipment and technology providers such as Oceaneering International (OII) and Oil States International (OIS).
Rig counts also help investors foresee revenue trends for equipment manufacturers such as Core Laboratories (CLB). Ensco accounts for 3.4% of the VanEck Vectors Oil Services ETF (OIH).
Jack-up rigs are mobile offshore drilling units that perform drilling and workover operations to lift energy. Rigzone estimates that the use of jack-up rigs will likely fall below 50% in 2015 due to lower crude oil prices.
Trends in the offshore rig count also indicate offshore energy activity by upstream and integrated energy companies. ExxonMobil (XOM) and Royal Dutch Shell (RDS.A) have offshore operations.
A strong rig count in the Gulf of Mexico can push production levels higher, which can benefit midstream MLPs such as Energy Products Partners (EPD), Shell Midstream Partners (SHLX), and MarkWest Energy Partners (MWE), which operate in the Gulf of Mexico region.