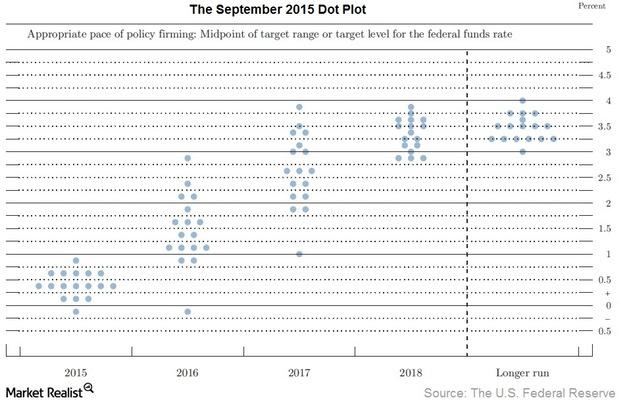 The US Monetary Policy: Fischer and Brainard Speak Out
Stanley Fischer's views
Stanley Fischer, vice chair of the Federal Reserve, said that with regard to US monetary policy, there's been a lot of emphasis on the timing of the first increase in the federal funds rate. However, the path of the federal funds rate is more important than the first increase, or liftoff. He said that given current economic conditions, the federal funds rate will be raised only gradually in the coming years.
Article continues below advertisement
He was quick to point out that the pace of rate hikes "is an expectation, not a commitment." He added that the outlook for economic activity is surrounded by "considerable uncertainties." These uncertainties make it difficult to provide policymakers with a clear path toward monetary policy tightening.
Fischer also emphasized the importance of developments in the global economy, which were responsible in part for the Fed not raising the federal funds rate in September 2015.
Lael Brainard's views
Lael Brainard, a member of the Fed's board of governors, said, "Over the past 15 months, US monetary policy deliberations have been taking place against a backdrop of progressively gloomier projections of global demand." She highlighted that unusually low rates are being experienced not only by the United States but by nations around the world.
She pointed out that most FOMC (Federal Open Market Committee) participants have lowered their expected level of the federal funds rate in the longer run. In September 2012, participants expected the longer-run normal level of the federal funds rate to be 4.1%, which has currently been reduced to 3.6%. This reduced level means the policy may be constrained by the lower bound.
Impact on investors
Fischer and Brainard were both quite dovish in their comments on US monetary policy. Although they were positive about current economic conditions, their stance on a rate hike was defensive. Fixed-income investors with a short-term view, whether in corporate bonds via mutual funds such as the American Century Diversified Bond A Fund (ADFAX) or in high-yield bonds through mutual funds such as the American High Income Trust Class A (AHITX), should be ready to rebalance their portfolios if a liftoff seems imminent.
Banks and financial companies such as U.S. Bancorp (USB), PNC Financial Services Group (PNC), and Citigroup (C) may stand to benefit from higher interest rates. With more people working and buying, loans would earn higher interest than earlier.
In the next article, let's consider two possible scenarios for US monetary policy that Brainard highlighted in her speech.