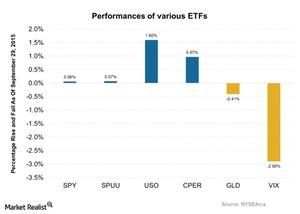 US Market Buoyant with Rise in Consumer Confidence
SPY rebounded with 0.06% gains
Article continues below advertisement
US Consumer Confidence Index beats economists' expectations
According to a report released by The Conference Board, an industry group, on Tuesday, September 29, US consumer confidence rose unexpectedly for the month of September. The index rose to 103 in September from 101.3 in August. The expected reading according to the Reuters poll was 96.1, which was left far behind by the reported data. This improvement in confidence can be attributed to lower fuel prices, which has left consumers with more dispensable cash at hand. Such a scenario generally results in an increase in retail sales.
Tuesday, September 29, 2015, saw a rise in oil prices by almost 2%. Copper futures also rose, whereas gold saw a dip. The VIX (volatility index) fell by 2.90%. The graph shows the rise and fall of various ETFs, such as the United States Oil ETF (USO) for oil, the SPDR Gold Shares ETF (GLD) for gold spot prices, and the United States Copper ETF (CPER) for copper futures.
Article continues below advertisement
Oil and copper commodities rise
The graph above shows the rise in oil and copper commodities and fall in gold and volatility index as of September 29, 2015. The preference for gold assets generally declines with a fall in market volatility. According to The Conference Board's report from that day, the unexpected improvement in consumer confidence boosted the US stock market. We can see the surge in the SPDR S&P 500 ETF and the Direxion Daily S&P 500 Bull 2X ETF.
Oil prices also rose on Tuesday, before the EIA (US Energy Information Administration) issued the official weekly inventory data on Wednesday, September 30. Investors are expecting a decrease in US shale production. The rebound in oil prices on Tuesday benefited many energy stocks, such as Transocean (RIG), Ensco (ESV), and Noble Corporation (NE). The stocks rose by 3.00%, 5.01%, and 4.68%, respectively, on September 29. All of these stocks have beta higher than one and are therefore more sensitive to broad market changes.
Let's take a look at the US stock market's key players in the next part of this series.