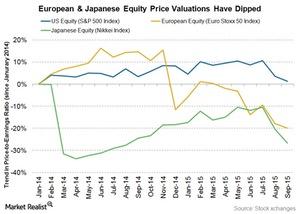 US Equity Is Expensive, so Where Can I Look for Relative Value?
Is US equity heading toward a bubble?
We've seen how US equity (QQQ) has been soaring over the past few years and how market commentators have started fearing of a bubble in the making. Recently, we've heard billionaire investment baron Carl Icahn comment that "a time is coming that might make some of those times look pretty good." He was pointing to years that marked a crisis such as 1969, 1974, 1979, 1987, 2000, and 2009.
Putting aside the decline marked by all stock markets, with China's stock market crash, price valuation multiples in the United States have been on a rising trend vis-à-vis those of European or Japanese equities.
Article continues below advertisement
US equity prices have been rising, declining in Europe and Japan
Price trends, as gauged by the movement of the PE (price-to-earnings) ratio in the above graph for the United States (S&P 500 Index), Europe (Euro Stoxx 50 Index), and Japan (Nikkei Index), clearly highlight how the global slowdown has impacted prices around the globe. However, they weren't able to deter the strong uptrend in prices in the United States to a large extent. Equity prices have been rising in the United States and declining in Europe and Japan.
In the United States, stocks of companies such as Netflix (NFLX), Amazon (AMZN), and Activision Blizzard (ATVI) have soared so far this year. NFLX has risen more than 100%, while AMZN and ATVI have returned about 93% and 75%, respectively, on a YTD (year-to-date) basis.
US equity has become expensive, and its PE ratio continues to be elevated despite the fact that companies in the United States have been using the low-interest rate regime to financially lever their earnings. To find out more, read Carl Icahn: Low Interest Rates Have Created an Earnings Mirage.
US is expensive, emerging markets are diverging: Where to look for value?
Low growth conditions and issues faced by major emerging markets (EEM) such as Brazil, Russia, and China are serving as a definite deterrent for investors who are out shopping, looking for value and price appreciation. Bill Gross has commented, "Emerging markets (EM) are really diverging markets. We prefer countries implementing reforms to open up their economies; a little reform can go a long way in boosting asset values."
So US equity is expensive, and emerging markets are diverging. Where do investors look for relative value?
Among the developed nations (EFA), we see two that stand out and meet these characteristics. They're cheap by valuation and have adequate reforms in place to support their respective asset price appreciation. Let's dig more deeply.