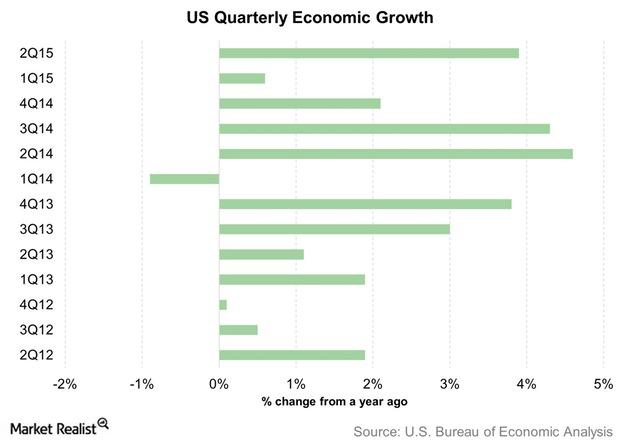 The US Economy: Fischer and Brainard Weigh In
Stanley Fischer's views
Stanley Fischer, vice chair of the Federal Reserve, expressed his views on the state of the US economy while speaking at the Group of Thirty Annual International Banking Seminar in Lima, Peru, on October 11, 2015.
His views are important because they came three days after the release of the rather dovish minutes of the FOMC's (Federal Open Market Committee) September 2015 meeting.
As far as the US economy is concerned, Fischer seemed satisfied with the pace of economic growth, calling it "sufficient to generate ongoing improvements in the labor market." However, he added that the labor market needs to improve more. He's concerned about the labor force participation rate and people who want to work full-time but are forced to work part-time due to prevailing economic conditions. Wage growth is also a concern.
The slow pace of job additions in August and September was a bit disappointing to him, but he still found the pace good enough to gradually remove the slack in the labor market.
Article continues below advertisement
Lael Brainard's views
Lael Brainard, a member of the Federal Reserve's board of governors, expressed her views on the US economy at the 57th NABE (National Association for Business Economics) Annual Meeting in Washington, D.C., on October 12, 2015. She called economic activity in the United States "reassuringly resilient." She added that apart from economic activity, domestic investment seems to be rising moderately despite the negative impact of the energy sector.
On the labor market, Brainard said that although the unemployment rate is close to its longer-term normal rate, some other metrics of labor utilization are not. Like Fischer, she also expressed concerns on the low level of labor participation despite recent improvements and the subdued pace of the rise in wages.
Impact on investors
Comments by policymakers are important, especially for fixed-income investors (FPCIX) (JHNBX). They base their views on the state of the economy and its readiness for a hike in the interest rate, which, in turn, may negatively impact fixed-income investments.
Companies also pay close attention to policymakers' comments, as their bond issuing plans can be impacted. The high-yield bond market has witnessed a sharp rise in yields in recent months, which has led to companies such as Altice N.V. that issued bonds to acquire Cablevision Systems (CVC), Iron Mountain (IRM), and Mallinckrodt (MNK) to set high coupons on their bonds.
In the next article, we'll see what the US economy looks like and what can play a key role in its growth.