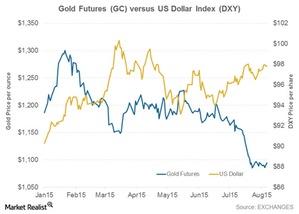 US Dollar Rises, Gold Falls on Bullish Data
Gold and the dollar
Gold and the US dollar have witnessed an almost inverse relationship over the past few years. The other precious metals have a similar inverse relationship to the US dollar. The precious metals are all dollar-denominated, so a rising dollar means that these metals are getting more expensive for investors from other countries. The US dollar has seen a drop in its prices in the past month. The DXY Currency, which rates the dollar against a major world currency basket, declined 0.22% on a 30-day trailing basis. Gold, in the same timeframe, has seen a rise of 3.10%. On Friday, October 16, as the dollar gained 0.12%, gold saw a loss of 0.37%. Most trading days show the inverse relationship that is also depicted in the graph below.
Article continues below advertisement
Tracking mining ETFs and miners
The bullish October data for consumer sentiment likely pushed the US dollar up. Data on Thursday, October 15, showed that core inflation picked up. Other data on Friday, October 16, however, showed a drop in US industrial output. These economic ups and downs add to the uncertainty surrounding a rate hike by the Federal Reserve.
Inflation data on Thursday also helped the dollar move away from seven-week lows. It looked like the Fed could raise rates for the first time in nearly a decade in December. Investor sentiment for gold remains mixed. Hedge funds and money managers raised their bullish bets in COMEX gold and silver.
Precious metals–backed ETFs like the iShares Silver Trust (SLV) and the SPDR Gold Shares (GLD) have followed the gains in silver and gold, respectively. They increased 5.6% and 3.1%, respectively, on a 30-day trailing basis. Companies involved in precious metals mining, like Silver Wheaton (SLW), Royal Gold (RGLD), and Hecla Mining (HL), have seen gains in the last trading month. These three stocks make up 10.7% of the VanEck Vectors Gold Miners ETF's (GDX) portfolio.