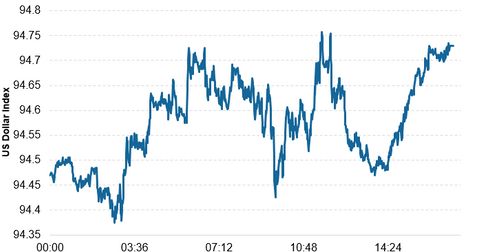 US Dollar Index Rises Slightly on Positive Data
By David Meyer

Updated
US dollar was slightly positive
The US dollar index, which is a measure of the strength of the US Dollar against six major currencies, was on a positive trend on Friday, October 16. The index reached a high of 94.77 after the release of US data but lost some of the gains towards the end of the day to end at 94.73. The index rose close to 0.27% for the day. With no major data except building permits data expected from the US in the week starting October 19, the focus will be on Chinese data releases on Sunday, and the ECB (European Central Bank) press conference, where the bank is expected to play down the euro on October 22.
Article continues below advertisement
Consumer sentiment is positive while jobs data is steady
The preliminary University of Michigan consumer sentiment for the month of October came out better than expected at 92.1. The report said that the personal financial expectations grew to the highest level since 2007. Consumers' views towards the purchase of durable goods also grew in a similar fashion. The data suggested an increase in consumer spending of close to 2.9% in 2016. The Bureau of Labor Statistics published the job opening and the labor turnover report for August on October 16. The job openings fell to 5.4 million in August, as there was a decrease in government jobs and also a fall in the non-durable goods manufacturing segment.
Impact on the market
The SPDR S&P Retail ETF (XRT) rose by 0.53% after positive consumer confidence numbers. The Consumer Discretionary Select Sector SPDR ETF (XLY) also rose by 0.53% on October 16, 2015.
Consumer-related stocks like Procter & Gamble (PG) and Unilever (UL) were positively influenced by consumer sentiment data. These stocks rose by 0.85% and 0.56%, respectively. General Electric (GE) was among the top gainers for the day with gains of 3.4% on October 16.