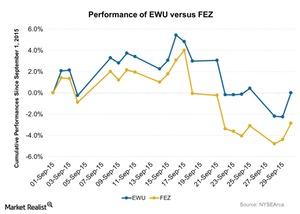 UK Stock Market Upbeat as EWU Closes with a Gain of 2.31%
EWU rose with positive leads across financial markets
The UK stock market cheered owing to positive rallies across the Asian stock market early Wednesday, September 30, 2015, as well as the US stock market on Tuesday, September 29, 2015. The iShares MSCI United Kingdom ETF (EWU) rose by 2.31% and the SPDR EURO STOXX 50 ETF (FEZ) rose by 1.59% on Wednesday, September 30.
The European Central Bank's Governing Council member, Jens Weidmann, stated late Tuesday that the Eurozone's recovery has firmed. The UK Office of National Statistics validated that the British economy grew by 0.7% in the second quarter.
Article continues below advertisement
This figure has made the United Kingdom a top performer among advanced nations in the G7 (Group of Seven), second to the United States. However, British gross domestic product (or GDP) declined from 2.6% to 2.4% on a year-over-year basis. The stock market seemed to shrug off this fact, though, and it rebounded on Wednesday.
Eurozone
As per the flash estimates of the European Union Statistics Office, Eurostat, inflation in the Eurozone dropped from 0.1% in August to -0.1% in September. The unexpected fall of inflation into the negatives warns of the possibility of falling prices in Europe. However, the European Central Bank (or ECB) is equipped to combat the situation with an increase in its quantitative easing program to ward off possible deflation and stabilize the economy.
British economic growth in the second quarter and hopes of a stimulus program in the Eurozone have boosted the European and UK stock markets. Thus, the FEZ rose by 1.59% on Wednesday, September 30.
Out of 109 constituent stocks of the EWU, only Fresnillo (FRES), a mining stock, fell into negative territory and lost 0.84% on Wednesday, September 30. The rest of the stocks rose on the day. Financial sector companies like Aviva (AV) and Prudential (PRU) yielded 5.51% and 4.74%, respectively, on the day. Advertising company WPP (WPPGY) also gained 3.62%.
Let us look at the key stocks of the UK stock market on the day.