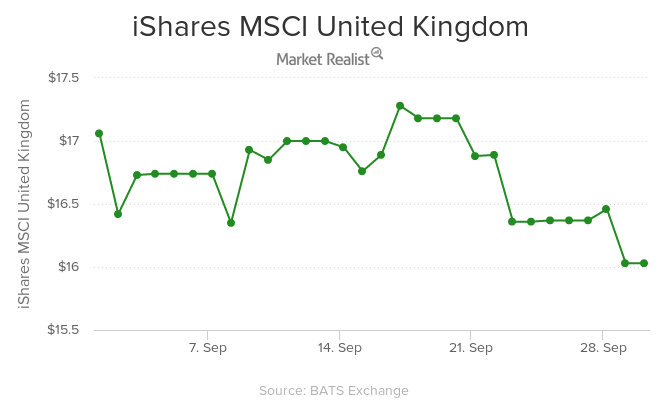 UK Stock Market Perturbed by Global Concerns
iShares MSCI United Kingdom ETF falls further
The iShares MSCI United Kingdom ETF (EWU) fell a further 0.06% on Tuesday, September 29. Investors are surrounded by global concerns about emerging market economy sustainability, the United Kingdom's financial recovery, global consumption, and demands for commodities and basic materials.
[marketrealist-chart id=693960]
The graph above shows the price movement of the ETF for the month of September. Of the iShares MSCI United Kingdom ETF's (EWU) 109 constituent stocks, only 21 managed positive returns on September 29 2015. The technology, finance, and consumer discretionary sectors were the most adversely affected sectors that day. The semiconductor-specialized stock Arm Holdings (ARMH) lost 2.23% on September 29. However, the energy sector gained that day with the rise in the oil prices.
Article continues below advertisement
Royal Dutch Shell abandons Alaska drilling
Eminent stocks from the sector that gained that day were Tullow Oil (TLW), BP (BP), and Royal Dutch Shell (RDS.A), (RDS.B). The stocks gained 5.71%, 0.98%, 1.89%, and 1.88%, respectively. Royal Dutch Shell announced that it has abandoned its drilling in the Alaska region due to disappointing results. The well on the northern coast of Alaska will be sealed and abandoned for an indefinite period. At the same time, the company disclosed that it will sign a contract by the end of October that will allow Royal Dutch Shell to explore oil and gas off Bulgaria's Black Sea coast. Royal Dutch Shell Class A has earned eighteen "Buy," eight "Hold," and three "Sell" recommendations. Royal Dutch Shell Class B has earned eleven "Buy," six "Hold," and two "Sell" recommendations.
BP stocks gained with the rise in the oil prices. The company restated its plans to drill off the coast of Nova Scotia. It will be a deep-water oil exploration project.
Let's analyze the UK stock market's key stocks on September 29.