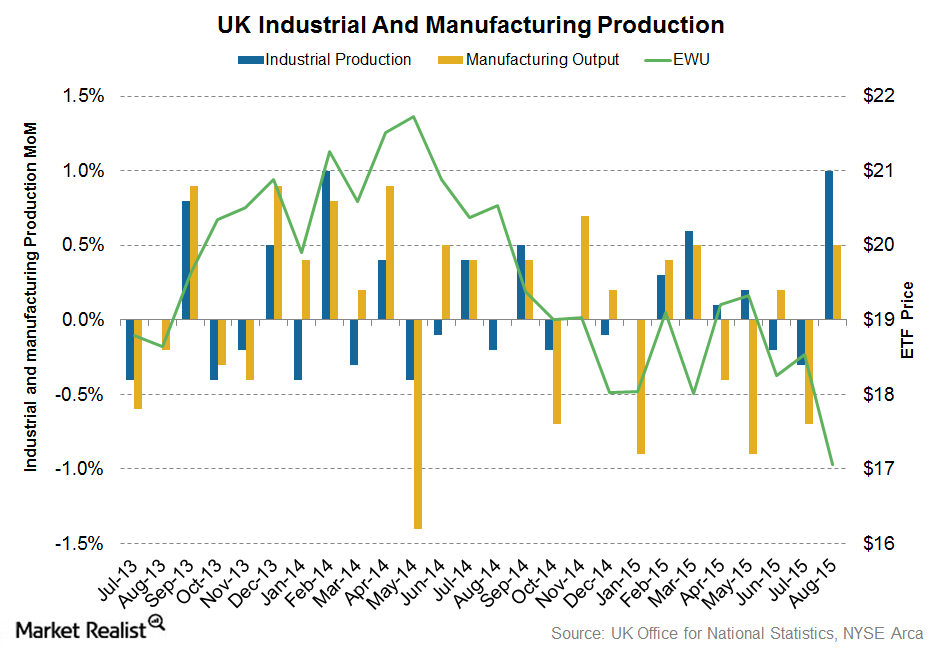 UK Industrial Production Regained Strength in August
By Lara Sheldon

Dec. 4 2020, Updated 10:53 a.m. ET
UK industrial production rose 1% in August
With a rise in mining and quarrying activities, the UK industrial production index (IPI) rose by 1% in August 2015 against a fall of 0.3% in July. The UK-focused iShares MSCI United Kingdom ETF (EWU) rose 3.3% over the past month as of October 7, 2015.
On an annual basis, industrial production in the United Kingdom increased 1.9% in August. The largest contribution to industrial production came from mining and quarrying activities, which increased by 17.7%.
Article continues below advertisement
Manufacturing output increased 0.5% in August
The manufacturing of transportation equipment also saw growth, along with basic metals and metal products, and the manufacturing of food, beverages, and tobacco. This led to a 0.5% increase in manufacturing output in August 2015 as compared to a decrease of 0.7% in July.
However, on an annual basis, manufacturing output fell to 0.8% due to a 13% decrease in the manufacturing of machinery and equipment in August 2015.
With mining activity gaining pace, metals stocks like Rio Tinto (RIO) and BHP Billiton (BHP) rose 6.3% and 1.6%, respectively, over the past month as of October 7, 2015. Even energy stocks such as Royal Dutch Shell (RDS-A) and BP (BP) have risen 8.2% and 13.7%, respectively, over the same period.
An increase in industrial and manufacturing data as compared to the decline recorded in July is a good sign for the economy. However, growth remains moderate on a yearly basis. This implies that challenges still exist for manufacturing activities in the country.
A stronger British pound and a slowdown in emerging economies may reduce the demand for UK goods abroad. This may impact production activity in the coming months.
The United Kingdom is one of the most powerful nations in Europe, and any upside or downside in the country has the potential to affect the region's growth prospects going forward.
Emerging economies are influencing global growth expectations. Rising inflation has been an issue with these economies. In the next article we'll take a look at Brazil's increased inflation.