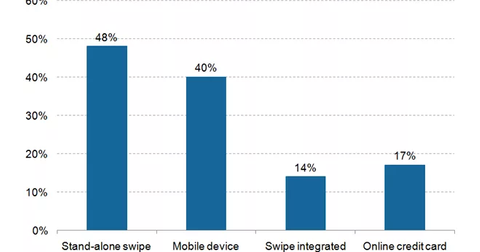 What Trends Are Affecting Square's Performance?
By Adam Rogers

Updated
Increase in mobile payments
The transition from cash and checks to electronic and mobile payments has been increasing exponentially in the last few years. According to a Nilson Report published in 2014, consumer payments for fiscal 2013 totaled $8.9 trillion in the United States. 55% were through payment cards, 17% through cash, and 11% through checks. In 2018, consumer payments are expected to reach $11.4 trillion with payment cards growing to 66%, or $7.6 trillion. Payments through cash and checks are expected to fall in the same period.
The rapid growth of mobile devices and app stores has increased accessibility to buyers and sellers. While 438 million mobile devices had access to the Internet in 2013, the figure is expected to increase to 690 million devices in 2018.
Article continues below advertisement
Local businesses expected to drive economy
According to the US Census Bureau's reports in 2012 and 2013, approximately 30 million small businesses generated 46% of the country's private sector output in fiscal 2010. As per Square's IPO filing, "These figures likely underestimate significant parts of the American economy. For example, they do not include the millions of businesses run by freelancers, artists, hobbyists, and others. We believe small businesses will continue to drive the economy as entrepreneurial activity creates millions of businesses each year. The Kauffman Index 2015 report estimates that in 2014 approximately 530,000 new entrepreneurs started businesses each month. Local businesses engage in significant commerce and are essential to the economy and character of local communities, acting as an on-ramp for anyone of any background to participate in economic growth."
Stiff competition in this segment
As we discussed in part one of this series, Amazon (AMZN) launched a credit card reader for merchants to use to conduct payments through a smartphone or tablet. Although this card reader is similar to Square's card reader, Amazon will try to undercut its competitors with low processing fees, according to a report from the Wall Street Journal. Amazon's 1.8% fee would be lower than Square's 2.8% and eBay (EBAY) PayPal's 2.7%.
Jack Dorsey was named interim CEO of Twitter
Earlier this year, Jack Dorsey was also announced as the interim CEO of Twitter (TWTR) after the company announced that its previous CEO, Dick Costolo, will step down. This has also been mentioned as a risk factor in the firm's IPO filing, and it remains to be seen whether the dual role will negatively affect Square's performance.
You can get exposure to Amazon by investing in the PowerShares QQQ ETF (QQQ) and the SPDR S&P 500 ETF (SPY). QQQ and SPY have 5.18% and 1.19% exposure to Amazon, respectively.