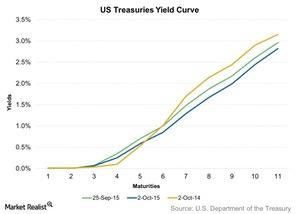 Treasury Yields Fell after Tame US Jobs Data
By Lynn Noah

Oct. 6 2015, Published 6:44 a.m. ET
Secondary market
US Treasury yields fell across the yield curve for the week ending October 2, 2015, amid weak US employment data. Last week, equity markets fell globally. In turn, this led to a rise in the demand for safe-haven Treasury bonds. It raised concerns of slow global growth.
The fall in the yields for Treasuries with one-year to 30-year maturities was in the double-digits. They were in the range of 10 to 20 basis points. The yield on the benchmark ten-year Treasury note, or T-note, fell by 18 basis points week-over-week. It ended at 1.99%.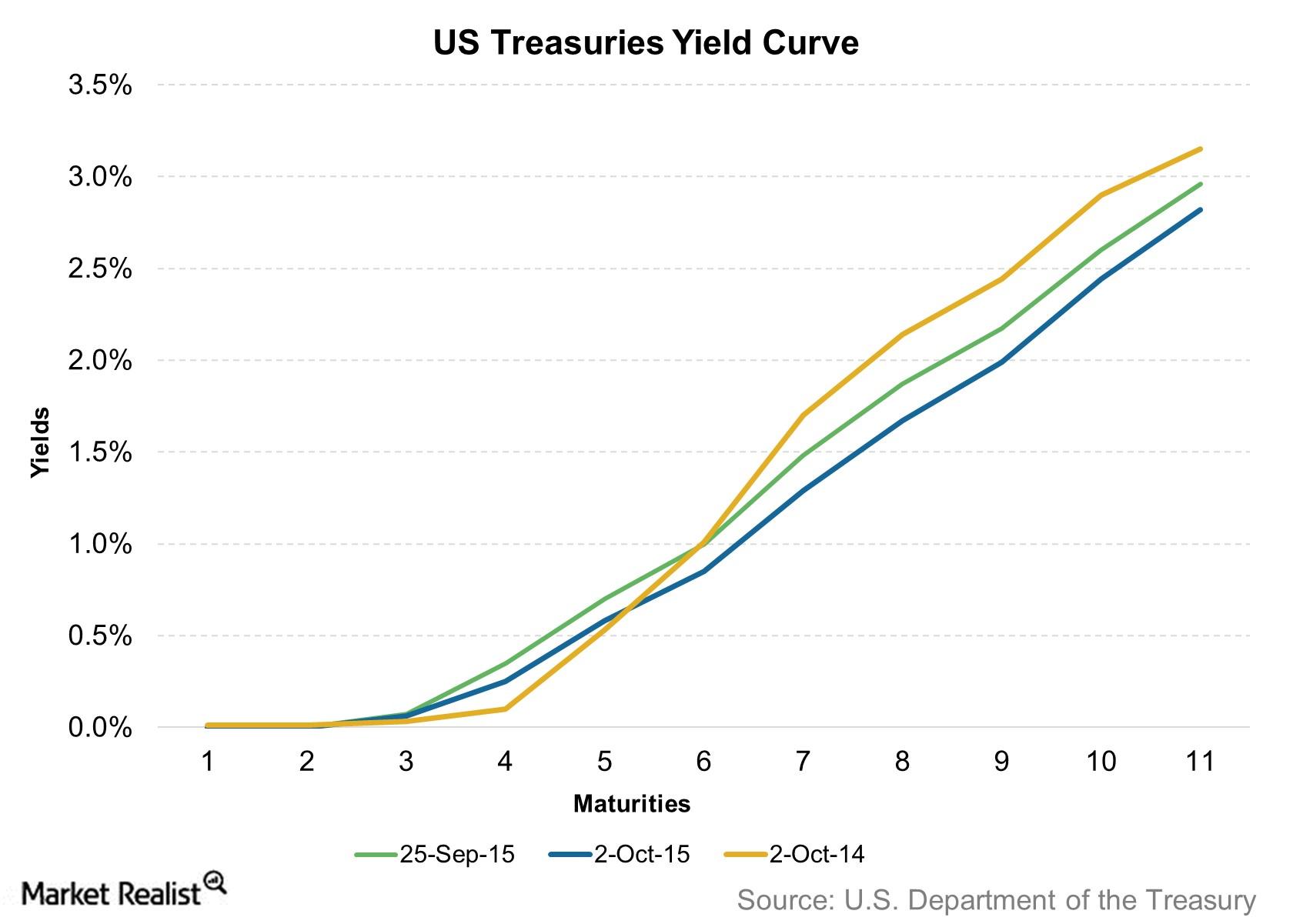 Article continues below advertisement
Disappointing US job data
Weak job data for September led to a fall in Treasury yields for the week ending October 2, 2015. The Fed has repeatedly said that improvement in the labor market is an important condition for the rate hike decision. However, due to a soft job report, it's possible that the Fed may delay its decision on the liftoff.
Non-farm payrolls in the US rose by 142,000 in September. This was below the expectations. Meanwhile, jobs additions in August fell to 136,000. The unemployment rate stayed the same at 5.10%. The average hourly earnings for September 2015 remained the same at 2.20% from September 2014.
ISM manufacturing slows
US manufacturing activity slowed in September, according to the ISM (Institute for Supply Management). The September US Manufacturing PMI (purchasing managers' index) stood at 50.2 index points. It fell from 51.1 recorded in August. This slowdown was mainly due to the appreciation of the dollar. It led to lower exports and a fall in crude oil prices. This led to cost cutting in the energy sector.
The slow growth in the manufacturing sector may not give the Fed enough confidence to raise the interest rates later this year.
Multinational companies' margins like Caterpillar (CAT), Deere & Company (DE), and Boeing (BA) have global operations. They're adversely affected due to a slowdown in the global growth.
Investment impact
Due to a double-digit fall in the long-term Treasury yields, the returns on long-term bond mutual funds rose.
The weekly return of the Vanguard Long-Term Treasury Fund Shares (VUSTX) stood at 2.51%. VUSTX invests almost 94% of its assets in Treasury securities with a maturity of less than ten years.
Similarly, the Dreyfus US Treasury Long-Term Fund (DRGBX), which invests almost 92% of its assets in Treasury securities with a maturity of less than ten years, rose 2.32% week-over-week.