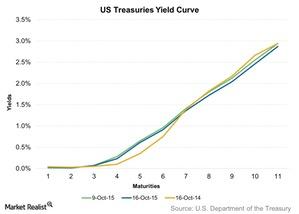 Treasury Yields Fell as September US Industrial Production Dipped
By Lynn Noah

Dec. 4 2020, Updated 10:53 a.m. ET
Secondary market
Treasury yields fell across the yield curve for the week ended October 16, 2015, as US industrial production for September declined. Demand for safe-haven assets rose amid global uncertainty and also on the dim possibility of interest rate hike in December by the Federal Reserve.
The fall in the yields was restricted to single digits. The one-month Treasury bill was the exception, and its yields rose by 2 basis points, week-over-week. The yield on the benchmark ten-year Treasury note fell by 8 basis points week-over-week, ending at 2.46%.
Article continues below advertisement
Industrial production data
US industrial production data was released on October 16. Industrial production fell 0.2% in September, compared to a 0.1% decline in August.
Similarly, manufacturing output fell 0.1% in September. This data indicates that the manufacturing sector is struggling to grow and may deter the Fed from hiking rates this year.
Other economic indicators
Advance retail sales data and producer price index (or PPI) impacted Treasury yields. Advance retail sales data were released on October 14, and Treasury yields fell as retail sales rose modestly by 0.1% in September, although they were weaker than expected.
Further, August data was revised down to 0%, compared to the original report of 0.2%. This shows that the retail sector activity is cooling down. Large retail stores such as Walmart (WMT), Target (TGT), and JCPenney (JCP), may be adversely impacted due to subdued growth in retail sales.
Treasury yields fell after the PPI data was released on October 14. The PPI final demand fell year-over-year in September by 1.1%, and it dropped 0.8% in August. This low level of inflation fails to give enough confidence to the Fed to raise interest rates, boosting Treasury prices.
Investment impact
The following mutual funds provide exposure to Treasuries. The falling Treasury yields have a positive impact on mutual funds returns. The Vanguard GNMA Fund Investor Shares Fund (VFIIX) provided weekly returns of 0.21%. The Dreyfus US Treasury Long-Term Fund (DRGBX) provided a week-over-week return of 1.17%.
Throughout this series, we will look at Treasury bills auctions that took place during the week ended October 16, 2015.