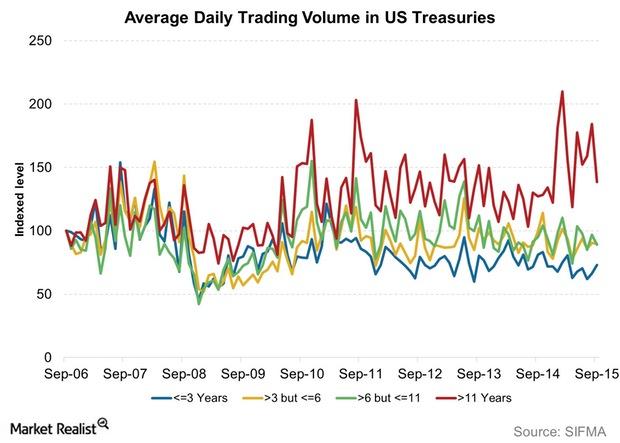 Treasury Market Liquidity: Cause for Concern?
By David Ashworth

Oct. 19 2015, Updated 4:40 p.m. ET
The Fed research
In August 2015, Tobias Adrian, Michael Fleming, Daniel Stackman, and Erik Vogt of the Federal Reserve Bank of New York posted research titled "Has US Treasury Market Liquidity Deteriorated?" Their assessment showed that, according to the bid-ask spread measure, there's "ample liquidity" in the Treasury market (VFIIX) (WHOSX). However, some other measures of liquidity, including the trade size of Treasuries, point to a deterioration in liquidity.
Article continues below advertisement
Adrian, Fleming, Stackman, and Vogt summed up their assessment by stating that "overall, our evidence is fairly favorable about the current state of Treasury market liquidity," and specifying that "the evidence suggests that market participants' liquidity concerns are not emanating from average levels of liquidity in the benchmark Treasury notes."
The authors went on say that concerns about liquidity in the Treasury market could be due to the following factors:
considerations about "less liquid Treasury securities or other fixed-income securities"
issues related more to liquidity risk than to liquidity levels
concerns about future liquidity conditions
Less liquid Treasuries
The graph above denotes the average daily trading volume for each month from September 2006 until September 2015. We have considered September 2006 as a base, indexing it at 100. Values above 100 denote a higher volume than September 2006, and vice-versa. The graph is based on primary dealer activity and is divided into four segments:
Treasuries of maturity less than or equal to three years
Treasuries of maturity greater than three but less than or equal to six years
Treasuries of maturity greater than six but less than or equal to 11 years
Treasuries of maturity greater than 11 years
The graph shows that the average trading volume has fallen in all segments—except for Treasuries with maturity greater than 11 years. Do keep in mind that, at least in part, volumes are driven by future expectations for inflation and a rate hike.
Liquidity risk and future liquidity concerns
The term "liquidity risk" refers to unexplained changes in prices that lead to a crunch in volatility. The events of October 15, 2014, are a case in point.
There are concerns among some market participants that liquidity in the Treasury market has fallen due to regulations and that this will dive further once the federal funds rate gets raised. And this has direct implications on your mutual fund investments. Banks, who generally stand to benefit from rate hikes, are eagerly awaiting such a hike (USB) (BAC) (WFC).
We'll look at liquidity risk and future liquidity concerns in more detail in the next part of this series.