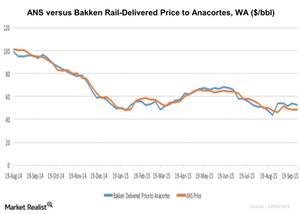 Tesoro's Big Bet on Building Crude-by-Rail Infrastructure
By Manu Milan

Dec. 4 2020, Updated 10:53 a.m. ET
Crude by rail works only for refineries
According to Genscape, US spot crude-by-rail movements work only for refineries, and refiners are making margins with crack spreads.
Turner Mason & Company executive vice president John Auers noted, "Crude-by-rail works only if it can get crude to a refinery at a lower laid-in cost than the refiners' alternate options."
Article continues below advertisement
Crude movement at Tesoro's Anacortes facility
According to Genscape data, in the case of Tesoro's Anacortes facility, CBR (crude-by-rail) volumes appeared to have remained fairly steady in the past 12 months. In the week ended September 25, 2015, unloading volumes at the Anacortes facility averaged 69,000 barrels per day (or bpd), up 25,286 bpd compared with the previous week.
In the corresponding week last year, volumes were 56,268 bpd, close to the average unloading volumes during the week ended August 28, 2015, of 51,429 bpd.
Why crude-by-rail is important for Tesoro
Crude-by-pipeline costs much less than crude-by-rail. Although half to one-third of the cost is incurred through rail, trains don't require long-term contracts and there is no need to wait for pipelines to be built.
Although pipelines provide fixed access only from point A to point B, refiners can access nearly any market in the US using CBR (crude-by-rail). An important part of Tesoro's business, crude-by-rail allows refiners to cover maximum accessibility and to gain from price differentials.
Article continues below advertisement
Tesoro to develop crude infrastructure
Tesoro notes that it remains committed to its proposed 360,000 bpd crude-by-rail terminal in Vancouver, Washington. The company believes that crude-by-rail will play an important part in bringing advantaged crude—or lower-cost crude—to the West Coast.
Gregory Goff, Tesoro's CEO, noted during the company's second-quarter earnings call, "We continued to upgrade our crude oil rail fleet by adding 210 enhanced tank cars that exceed the new safety, transport standards issued by the U.S. Department of Transportation on May 1 of this year."
Tesoro's focus on CBR
CBR works only for refiners and is beneficial only when making money from crack spreads. Tesoro (TSO) is also the same kind of refiner making money from the crack spread, which also benefits from low crude prices.
Refiners like Phillips 66 (PSX), Marathon Petroleum (MPC), Chevron (CVX), Hess Corporation (HES), and Tesoro Corporation (TSO) also seek arbitrage opportunities and a high crack spread to maximize their profit. Phillips 66 accounts for 3.19% of the Vanguard Energy ETF (VDE).