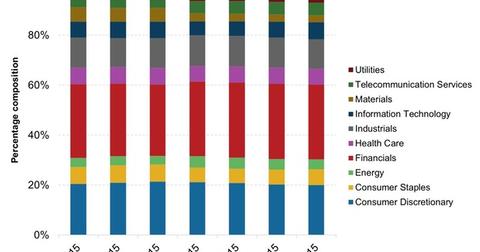 The T. Rowe Price European Stock Fund (PRESX): Historical Overview
By David Ashworth

Oct. 28 2015, Published 2:36 p.m. ET
An introduction
The T. Rowe Price European Stock Fund (PRESX) seeks to grow capital "through investment primarily in common stocks of both large and small European companies. Current income is a secondary objective." The fund intends to diversify its investments into at least five countries.
The fund management uses the bottom-up approach while constructing the portfolio. Industry sector and country outlooks do not contribute directly in the construction of the portfolio. Fund literature states that "country allocation is driven largely by stock selection, though we may limit investments in markets or industries that appear to have poor overall prospects." It further states that it doesn't have a growth or value bias while picking stocks.
Article continues below advertisement
PRESX's assets were spread across 67 holdings as of September 2015, when it was managing assets worth $1.57 billion. As for the September portfolio, its top ten equity holdings included Nestle SA (NSRGY), Intesa Sanpaolo SpA (IITSF), Novartis AG (NVS), and Vodafone Group (VOD), which together make up 10.3% of the fund's portfolio.
Historical portfolios
For this analysis, we'll be considering PRESX's holdings as of June 2015, as this is the latest sectoral breakdown available to us. The fund's holdings after June reflect valuation-driven changes to the portfolio, not the actual holdings.
If we look at the fund's sectoral allocation over the past year, the three following moves are distinguishable:
The fund's affinity toward financials has grown. The sector used to form 25.4% of the portfolio in September 2014 while its current exposure is 30.0%.
The fund's exposure to industrials has been toned down. This sector commanded nearly 15% of the fund's portfolio at this time in 2014, but currently it forms a little over 11%.
The fund's exposure to utilities more than doubled over the past year. The sector made up less than 3.5% of the fund's assets in 2014 while now the sector forms 7.0% of the portfolio.
Materials had become in favor in December 2014, but exposure to the sector decreased between June and September 2015. But have these portfolio moves helped the T. Rowe Price European Stock Fund's (PRESX) performance?
Continue to the next part of this series to find out.