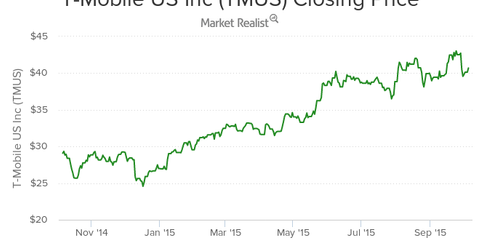 T-Mobile Addresses Possible Acquisitions or Partnerships
By Ray Sheffer

Oct. 12 2015, Published 3:13 p.m. ET
T-Mobile on acquisitions and partnerships
In this series, we'll look at some wireless updates as well as those from T-Mobile (TMUS) that were discussed at the Deutsche Bank Leveraged Finance Conference held on September 30, 2015.
During the conference, J. Braxton Carter, T-Mobile's chief financial officer, mentioned earlier merger and acquisition talks with companies such as Sprint (S), Dish Network (DISH), and France's telecom (telecommunication) company Iliad SA.
[marketrealist-chart id=706004]
On the pricing side, Carter said, "In a situation like Iliad, again very flattering, but I mean if you want to roll a wheelbarrow full of cash at $55 a share and say, hey, we'll pay you this for your company today, of course, we would do that."
Article continues below advertisement
He also talked about the possible industries from which an acquirer or partner of T-Mobile may come. He said, "Having a true ubiquitous mobile platform can be a huge differentiator for tech, a huge differentiator for content providers, specifically cable or satellite, and we think that the strategic opportunity for us is going to grow significantly over the next several years."
About T-Mobile
As of October 8, 2015, T-Mobile was trading at a forward PE (price-to-earnings) multiple of ~18.7x. T-Mobile's closing price on the previous day was $40.37. Meanwhile, Verizon (VZ) and AT&T (T) were trading at forward PE multiples of ~11x and ~12x, respectively.
T-Mobile was the third-largest US wireless carrier by total subscribers at the end of 2Q15. The two largest US wireless telecom players were Verizon and AT&T. Sprint (S) was the smallest among the top four US wireless carriers at the end of the quarter.
Instead of taking direct exposure to T-Mobile's stock, you may consider a diversified exposure to the telecom company by investing in the iShares Russell 3000 ETF (IWV). The ETF had ~0.05% of its holdings in the US wireless telecom company at the end of August 2015.