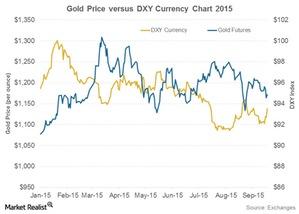 Is a Stronger Dollar Pressuring Gold?
By Meera Shawn

Updated
Gold retreats
Gold prices fell for the second straight day on Thursday, October 22, 2015, hitting a nine-day low of $1,161.40 per ounce. The bullion's price was pressured by the stronger US dollar. Uncertainty over the timing of the interest rate hike added fuel to the fire.
Silver, however, saw an up day, gaining 0.81% and closing at $15.80 per ounce. Platinum and palladium prices also had an upward surge, gaining 0.58% and 1.2%, respectively.
Platinum and palladium saw high prices at $1,013.70 and $687.50 per ounce on Thursday. The US dollar has been gaining strength, increasing 1.8% on a trailing five-day basis. Thursday, October 22, however, was a down day for the dollar, as it retreated 0.10%.
Article continues below advertisement
The U.S. Dollar Index reflects US dollar price movements. The index represents the rate of the US dollar against the basket of major world currencies. The US dollar likely surged as the dovish European Central Bank sent the euro tumbling. The trading volume in gold and silver has also seen a decline in the current week compared to the prior week.
The Goldman Sachs report
Goldman Sachs said in a research note circulated to the media on Thursday, October 22, 2015, "Indeed, notwithstanding the fact that the 'new normal' equilibrium in interest rates remains uncertain, a plausible range of scenarios all imply lower gold prices." Goldman Sachs maintained its three-, six-, and 12-month forecasts for gold at $1,100, $1,050, and $1,000 per ounce, respectively.
A negative trend in gold is likely. However, we can't help but notice how the Fed's decision on an interest rate hike has affected the bullions. Better-than-expected US jobless claims also revived hopes that the Federal Reserve may raise rates before the year ends.
The Global X Silver Miners ETF (SIL), a silver-backed fund, rose 1.5% on Thursday, October 22. It has seen a 17.4% increase on a trailing 30-day basis, as silver rose 7.4%. Silver mining companies Pan American Silver (PAAS), Coeur Mining (CDE), and Hecla Mining (HL) have increased 29.7%, 8.7%, and 16.0%, respectively. These stocks make up 3.5% of the VanEck Vectors Gold Miners ETF (GDX).