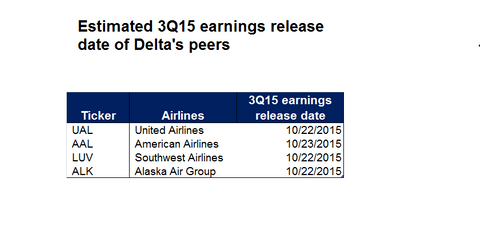 Strategic Partnership of Delta Air Lines with China Eastern
By Sam Matthews

Updated
SkyTeam
SkyTeam is an airline alliance formed in 2000 with Delta Air Lines (DAL) as its founding member, along with Aeroméxico, Air France, and Korean Air. Currently, the alliance has 20 members serving over 1,000 locations in 177 countries. Both China Eastern Airlines (CEA) and Delta Air Lines are members of SkyTeam.
Article continues below advertisement
Investment in China Eastern Airlines
Delta Air Lines purchased a 3.5% stake in the state-owned Chinese Eastern Airlines for $450 million in 3Q15. Delta also increased its stake in Brazil's leading domestic airline, Gol Linhas Aéreas Inteligentes (GOL), from its earlier 3% to 9%. Unlike other carriers such as JetBlue (JBLU), Southwest (LUV), and  Spirit Airlines (SAVE), Delta has stakes in companies operating in various regions.
However, GOL's stock price fell more than 50% during the quarter. Delta Air Lines already has a significant 49% stake in Virgin Atlantic Airways and a 3.5% minor stake in Aeroméxico, both of which are SkyTeam members.
Why invest in international airlines?
China is a leading destination for the long-haul flights from the US, and this traffic is projected to grow at a higher rate than the global average. However, for international airlines, it is difficult to operate within foreign countries due to regulations and bilateral treaties. To grow within these countries, airlines use strategic partnerships that range from code-sharing agreements to joint ventures.
After the sale of the stake in China Eastern, the airlines signed agreements regarding code-sharing, revenue management scheduling, and frequent-flyer miles, which would help both companies increase their operations in China and the US.
Article continues below advertisement
This agreement allows the airlines to build a hub in Shanghai that gives greater access to Delta in China. A higher stake in GOL also ensures that Delta can build a hub in São Paulo, Brazil. Delta's partnership with Virgin Atlantic and Aeroméxico should provide a long-term upside for the airline in Western Europe and Mexico. Delta is the only US carrier that has equity investments, joint ventures, and operational agreements with airlines in Asia, the UK, and Latin America.
Outlook
Delta Air Lines expects the US to conclude an open-skies agreement with Brazil in 2016, after which Delta would increase its ties with GOL. Delta plans to file for antitrust immunity soon after the agreement is concluded. Similarly, it expects to receive antitrust immunity for its collaboration with Aeroméxico by 2016. These agreements would give Delta Air Lines more access in two of the largest markets in Latin America.
Investors can gain exposure to airlines like Delta Air Lines (DAL), through the iShares Transportation Average ETF (IYT). IYT holds ~38% in airline stocks and ~3% in Delta Air Lines. You can also invest in the SPDR S&P Transportation ETF (XTN).