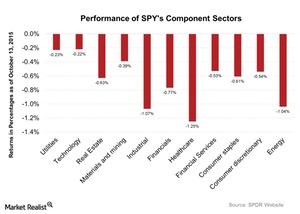 SPY's Component Sectors Fall into the Red
By Renee Blakely

Oct. 17 2015, Updated 10:06 a.m. ET
Sector performances
The component sectors of the SPDR S&P 500 ETF (SPY) marched into red territory ahead of corporate earnings releases and weak trade data from China released on Tuesday, October 13, 2015.
Looking at overall weak global demand, not much is expected from corporate earnings releases this week. This, along with the release of Chinese trade data, shook the US stock market on October 13.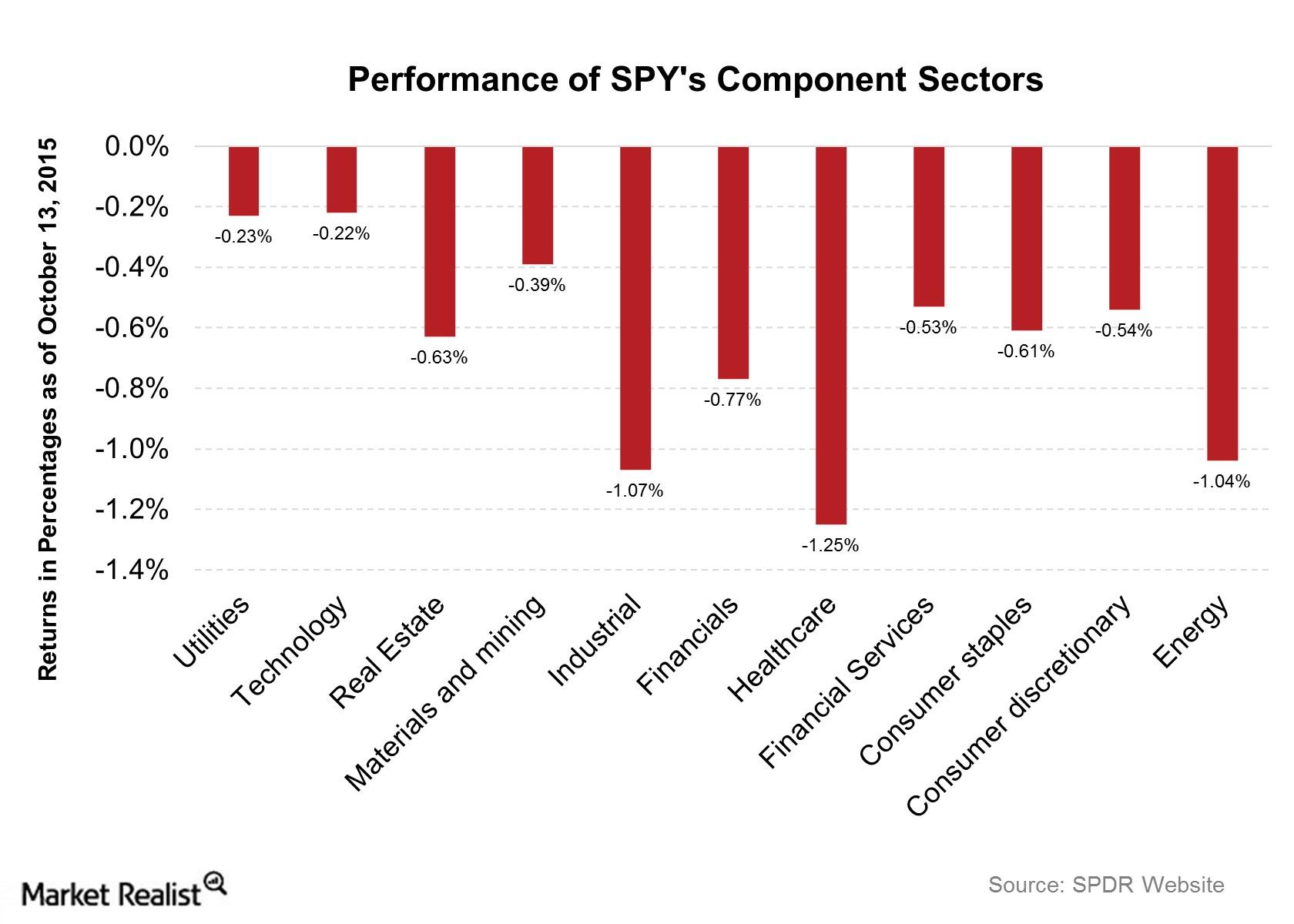 The graph above shows the percentages of the falls in the component sectors of the SPDR S&P 500 ETF on October 13, 2015.
Article continues below advertisement
Chinese trade data
According to China's General Administration of Customs, Chinese exports fell by 3.7% in September 2015 from a year earlier, following a drop of 5.5% in August. Also, China's imports in September dropped by 20.4% from a year earlier, following a 13.8% fall in August. When compared to August, the figures seemed to be better for export trade.
The fall in imports points toward weak domestic demand. However, some analysts also considered the individual impacts of weak commodity prices and softening domestic demand. Both scenarios are applicable to this trade data. On the other hand, China's crude imports were 28.0 million metric tons in September as compared to 26.6 million tons in August. Thus, China's economic pace is contradictory to investors.
Impact of the trade data
Commodity-linked currencies such as the Australian dollar fell on Tuesday, October 13. Most of Australia's trade is exports to China. The commodity markets of oil and iron ore have been affected by weak Chinese trade data as well, since China is a major importer of these commodities.
China's demand for metals amounts to around half of global consumption. China consumes 50% of global zinc produced, 45% of global copper, and 40% of lead. Hence, the report resulted in a slump in commodity prices as well as for mining companies.
Stocks of mining companies Newmont Mining (NEM), Alcoa (AA), and Freeport-McMoRan (FCX) fell by 0.43%, 0.50%, and 1.6%, respectively, on Tuesday, October 13.
An oil supply glut from the Organization of the Petroleum Exporting Countries (or OPEC) region has weighed down oil prices. The United States Oil ETF (USO) fell by 1.6% on October 13, causing energy stocks to fall further. These included the stocks of Denbury Resources (DNR), Chesapeake Energy (CHK), and Williams Companies (WMB). These stocks yielded -4.9%, -3.0%, and -2.7%, respectively, on October 13.
Let's look at the key stocks of the US stock market.