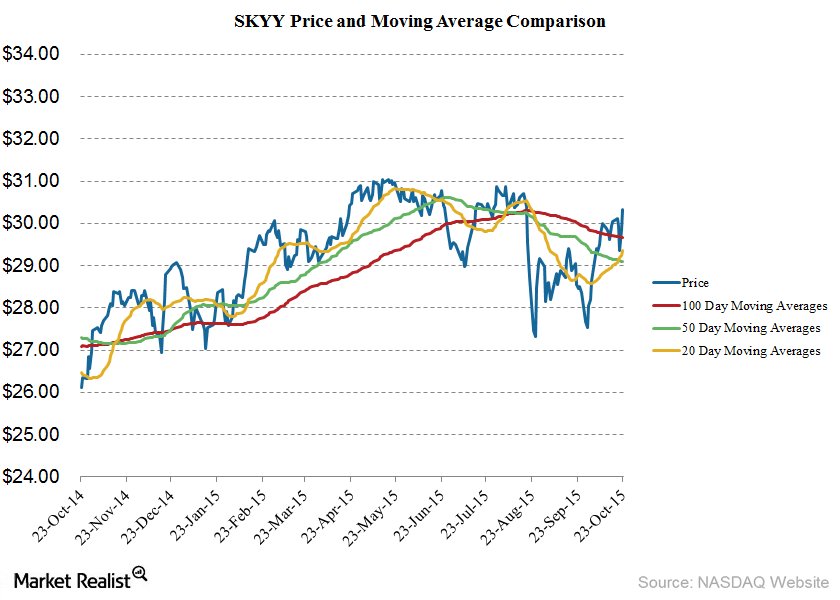 SKYY Sees $124 Million in Fund Inflows in Trailing 12 Months
By Adam Rogers

Oct. 26 2015, Published 11:21 a.m. ET
Overview of SKYY
The First Trust ISE Cloud Computing ETF (SKYY) tracks the performance of companies involved in the cloud computing industry. This ETF holds a varied portfolio of pure play, non-pure play, and technology conglomerate cloud computing firms, and weights each type of company equally within its category. It tracks the performance of 36 publicly-listed companies. The market capitalization of the ETF is $506.3 million, its expense ratio is 0.60%, and its average daily volume of shares traded is $2.1 million. The price-to-earnings ratio is 38.47x whereas its price-to-book value ratio and distribution yield stand at 3.75x and 0.31%, respectively.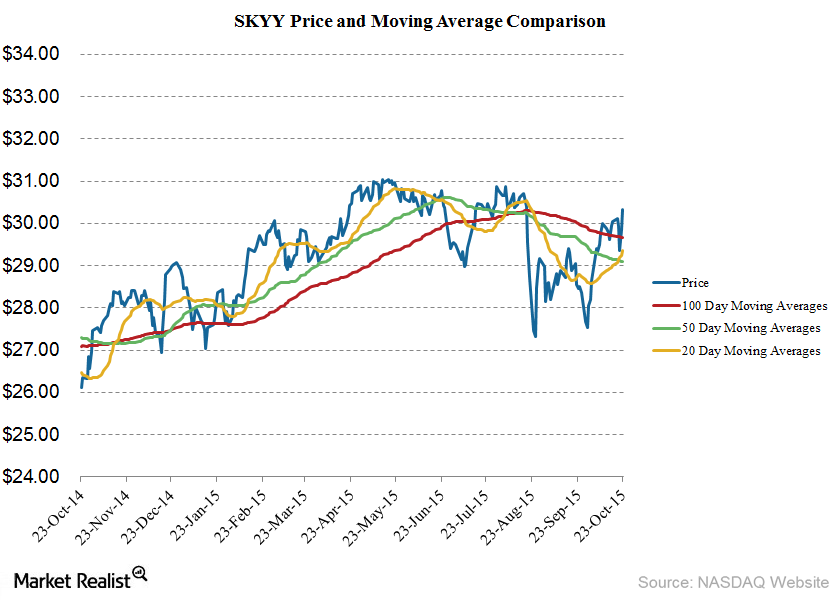 Article continues below advertisement
Top Holdings
The top 5 holdings of the ETF include Amazon (AMZN) at 4.9%, Google (GOOG) at 4.9%, Netflix (NFLX) at 4.6%, Facebook Inc. Class A Shares (FB) at 4.5%, and Open Text Corporation at 4.33%. These five holdings comprise over 20% of the total portfolio. Amazon (AMZN) comprises 5.3% of the PowerShares QQQ ETF (QQQ) as well.
Fund flows in the SKYY ETF
In the trailing-one-month period, fund outflows for the First Trust ISE Cloud Computing Index Fund (SKYY) were -$1.5 million, whereas, in the trailing-12-month period, net fund inflows stood at $124 million. There were no fund outflows or inflows in the trailing one week, whereas fund inflows in the trailing-three-month (or quarterly) period for the SKYY ETF were $19.3 million. Since August 20, 2015, the SKYY ETF was trading below its moving averages, and since then net fund inflows in the ETF have been $8.6 million.
The SKYY ETF generated investor returns of 12.5% in the trailing-12-month period and 1.2% in the trailing-one-month period. In comparison, it generated 16.5% returns in the trailing-three-year period and 3.4% YTD, or year-to-date.
Article continues below advertisement
Moving averages
On October 23, 2015, the SKYY ETF closed the trading day at $30.3. Based on this figure, here's how the stock fares in terms of its moving averages:
2.2% above its 100-day moving average of $29.7
4.2% above its 50-day moving average of $29.1
3.3% above its 20-day moving average of $29.4
Relative strength index
SKYY's 14-day RSI (relative strength index) is 61.2, showing that the ETF is slightly overbought[1. Generally, if the RSI is above 70, it indicates the stock is overbought. An RSI figure below 30 suggests that a stock has been oversold.]