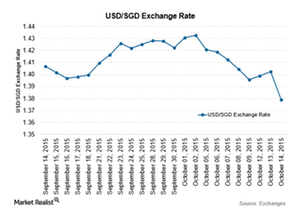 Singapore Dollar Gained on Positive Growth Figures
Singapore dollar gained on higher growth
The Singapore dollar gained against the US dollar on October 14, 2015. The GDP (gross domestic product) grew ahead of forecasts in the third quarter. Also, in an effort to revive growth, the MAS (Monetary Authority of Singapore) signaled that it will ease its policy by reducing volatility in the Singapore dollar to reduce significant appreciation in the currency. The MAS, Singapore's central bank, uses currency control mechanisms instead of interest rates to guide the economy. It expects a modest pace in economic growth through 2015 and 2016, considering consistent growth in the US. However, a global slowdown and fall in demand might be a concern.
Article continues below advertisement
Advance GDP expanded by 1.4% in the third quarter
The growth in Singapore's economy was at 1.4% in the third quarter on an annual basis. It was below the 2.0% level in the previous quarter. However, the data came in above expectations of 1.3% growth. On a quarter-over-quarter basis, the GDP expanded at a pace of 0.1%, against the negative growth of 2.5% in the previous quarter.
Impact on the market
The iShares MSCI Singapore ETF (EWS) was trading higher on October 14, 2015, by 1.5%. On a similar note, the SPDR S&P Emerging Asia Pacific ETF (GMF) ended the day higher by 0.48%.
Having a look at Chinese ADRs (American depositary receipts) in the manufacturing sector trading on US exchanges, the Aluminum Corporation of China (ACH) was trading lower by 1.3%. On the other hand, Sinopec Shanghai Petrochemical (SHI) ended higher by 0.15%, while Yanzhou Coal Mining (YZC) was trading in the negative trajectory by 0.38%.