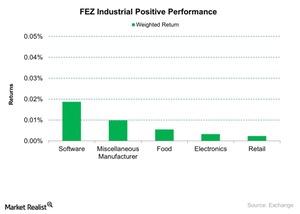 Sectors Driving the FEZ ETF's Performance on October 21
The FEZ ETF's performance
The FEZ (SPDR Euro Stoxx 50 ETF) is one of the most popular US-traded exchange-traded funds, providing exposure to European equities. The fund is invested in a broad range of sectors. The financial services sector dominates the FEZ portfolio with a 26% weight, followed by healthcare at 12%, and industrials and the consumer defensives at 11% each. Additionally, the consumer cyclical and energy sectors command a 9% and 7% share, respectively, in the FEZ portfolio.
The fund has returned ~-6% YTD (year-to-date) as on October 21. Now the fund is trading in a narrow range ahead of the ECB (European Central Bank) Meeting.
Article continues below advertisement
Top and bottom performers
On October 21, the top three performing industries were software, miscellaneous manufacturer, and the food industry. The bottom three industries were banking, pharmaceuticals, and personal care.
You can see the performance of these industries in the ETF in the graph above.
Key stocks driving the performance of the ETF
Out of the 52 constituents of the SPDR Euro Stoxx 50 ETF, 15 stocks gave positive returns on October 21. The top three performing stocks for the day were Unicredito (UNCFF), Deutsche Telekom (DTEGY), and E.ON. They gained ~2.8%, ~2.4%, and ~1.5%, respectively. In the software space, the market saw SAP (SAP) gain 0.69%.
The stocks at the bottom were Compagnie de Saint-Gobain, GDF Suez, and Banco Santander (SAN). The three stocks yielded around -3.3%, -2.9%, and -2.4%, respectively.
Factors driving the performance of the stocks
The following factors drove the performance of the stocks:
On October 20, Unicredito (UNCFF) declared that the bank was moving towards selling its Austrian Retail Banking business for improving its profitability and to convince the market that it doesn't need to raise the capital.
Deutsche Telekom (DTEGY) declared the sale of its Dutch mobile-phone unit to reduce its debt and acquire wireless frequencies in the United States. It's also considering the disposal of T-Mobile Netherlands in an effort to increase its earnings.
E.ON is on the way to restructure its asset base. It decided to reduce its holding in energy exploration and production due to a sharp fall in crude oil prices.
SAP SE (SAP) announced that its Global Insurance group, Ageas, had purchased the industry's first end-to-end insurance software in the cloud. This software helps the insurance business in its back-end and front-end operations. It's designed to help insurance companies run their business in the cloud.
In the next part of the article, we'll analyze the fund from a statistical point of view.