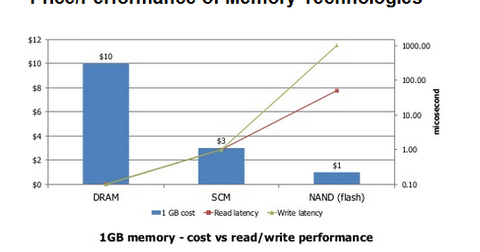 SanDisk-HP Alliance Will Bring SCM Technology to the Memory Space
By Anne Shields

Updated
SanDisk and Hewlett-Packard join hands to change the face of computing
On October 8, 2015, SanDisk (SNDK) announced a partnership with Hewlett-Packard (HPQ). The companies are collaborating on storage class memory (or SCM) technology. This partnership revolves around HP's Memristor technology and SanDisk's non-volatile resistive random access memory (or ReRAM ) technology. The partnership is also targeted towards enhancing data center solutions with solid state drives (or SSDs).
Article continues below advertisement
Memristor and ReRAM are the successors of DRAM and flash in the memory space
SanDisk's ReRAM technology is based on the "memory resistor" or a memristor circuit. Rather than using electrons, memristors store data using ions. Though a memristor offers all the advantages that DRAM and flash offer, one key aspect that distinguishes it is its simplicity to form the pattern on the chip as well as its ability to scale. Memristor simplicity enables the companies to scale in multiple dimensions at once. According to HP, "An entire Memristor cell can fit in the shadow of two interconnecting lines on a chip."
Non-volatile means data is not lost if an electrical outage happens. DRAM, on the other hand, is a volatile memory technology. According to some researchers from the Jülich Aachen Research Alliance, resistive memory can cut down the energy consumption of modern IT systems and increase performance at the same time.
Article continues below advertisement
SCM technology beats DRAM and flash
SCM technology is claimed to be 1,000 times faster than flash storage. Also, it has as many as 1,000 times the endurance of flash storage. SCM is a constant memory that runs at or close to DRAM speed. Being cost effective, it enables in-memory computing without any expense of writing to slower data storage like flash or disk.
SCM technology enables systems to employ tens of terabytes (or TB) of memory per server node. Real-time big data analytics, in-memory databases, and transactional and high-performance computing (or HPC) applications need this type of storage.
Both Hewlett-Packard and SanDisk are expected to market their SCM products based on HP's memristor and SanDisk's ReRAM memory technology for enterprise cloud and data center markets. Commenting on SanDisk's ReRAM technology, Siva Sivaram, executive vice president of memory technology at SanDisk, shared that ReRAM will offer significant cost, density, power, and persistence improvements over DRAM technologies.
In the later part of the series, we will discuss how SanDisk-HP's agreement could pose a threat to Intel (INTC) and Micron's (MU) partnership.
You can consider investing in the VanEck Vectors Semiconductor ETF (SMH) to gain exposure to Intel. Intel makes up about 19% of SMH.