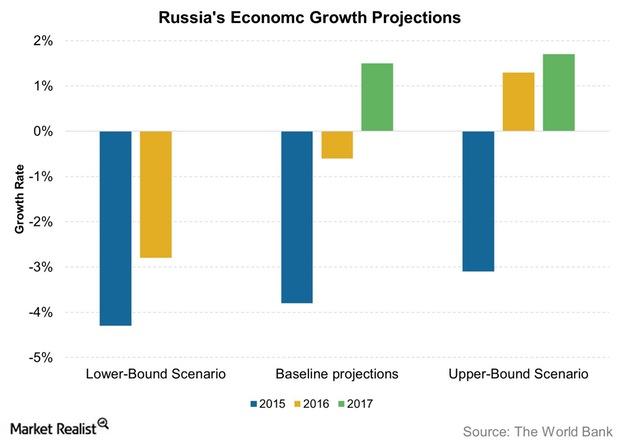 Where Is Russia Headed? The World Bank Has Made Its Prediction
By David Ashworth

Nov. 20 2020, Updated 11:05 a.m. ET
Impact on the Russian ruble
Prior to exploring Russia's growth estimates going forward, let's take a look at the impact this slowdown has had on the Russian ruble.
The Russian ruble underwent significant depreciation against several currencies, notably the US dollar. According to data from the Central Bank of Russia, the ruble was down 14.9% against the US dollar in August 2015, from December 2014, in nominal terms. In real terms, the ruble has fallen 8.0% in the same period.
Somber economic conditions and the ruble's loss of value have had a significant impact on the Russian population.
Article continues below advertisement
Impact on people
Economic conditions took their toll on the real wages and incomes of the Russian people. This led to a decline in household consumption and a rise in the unemployment rate, both of which led to a reduction in imports.
Unlike in the United States, where imports have risen while exports have fallen, in Russia, both fell, thus negating the impact of the fall of the ruble on government finances to a certain extent.
A fall in incomes led to a surge in poverty rates. According to the World Bank, the poverty rate in Russia rose from 13.1% in 1H14 to 15.1% in 1H15.
Due to a fall in revenues from the energy sector, the Russian government was unable to negate the effect of the fall in real incomes by increasing social benefits.
The road ahead for Russia
The World Bank sees a bumpy ride for the Russian economy in the short term. According to the Bank's baseline projections, the country's economy will remain in recession through 2016, with projected contractions of 3.8% in 2015 and 0.6% in 2016. A modest recovery at a rate of 1.5% is projected for 2017.
Two other projections by the World Bank are presented in the graph above. One is a pessimistic, or lower-bound scenario, and the other is an optimistic, or upper-bound scenario.
Russia's dependency on oil and gas exports poses a problem for the nation. If energy prices decline further, energy giants such as Public Joint Stock Oil Company LUKOIL (LUKOY), Public Joint Stock Company Gazprom (OGZPY), Open Joint Stock Company Surgutneftegas (SGTZY), and Tatneft (OAOFY) could find themselves in further trouble.
A fall in other commodities would be detrimental to companies such as Public Joint Stock Mining and Metallurgical Company Norilsk Nickel (NILSY), which formed 5.3% of the August 2015 portfolio of the Voya Russia Fund – Class A (LETRX).
To get out of this economic rut, policymakers, especially those in the fiscal policy arena, will need to undertake steps to reform the Russian economy. Until then, it seems as though economic winter has found a home in Russia.
For more analysis on mutual funds, please visit Market Realist's Mutual Funds page.