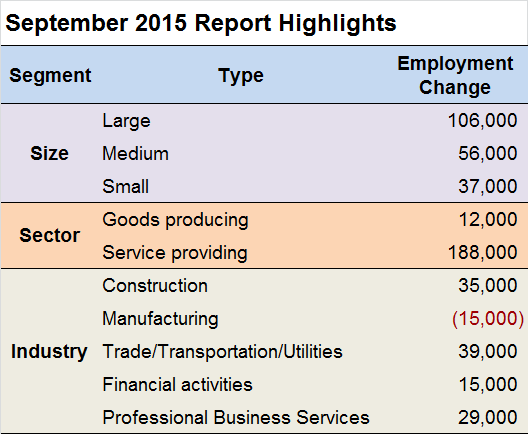 Rise in Manufacturing Employment Suggests a Slowdown
Private sector employment rose by 200,000 jobs in September
In line with the consensus range, private sector employment rose by 200,000 jobs in September from a downward revised 186,000 jobs in August. A rise in the job growth is viewed as bullish by financial investors. Over the past year, broad-based ETFs like the SPDR S&P 500 ETF Trust (SPY) and the Direxion Daily S&P500 Bull 3X ETF (SPXL) fell 1.40% and 7.30%, respectively, as of September 30. High volume stocks like Apple (AAPL) and Microsoft (MSFT) rose 2.40% and 5.80%. ExxonMobil (XOM) and Pfizer (PFE) rose 3.20% and 0.16%, respectively, over the past month as of September 30.
The ADP Employment Change is a monthly report. It's derived from the ADP's actual payroll data. It measures the change in total non-farm private employment each month on a seasonally-adjusted basis.
Article continues below advertisement
Manufacturing employment change slides in September
Traditionally, manufacturing is more volatile than the service sector. This is due to the ups and downs in the business cycle. For September, manufacturing employment fell by 15,000. This suggests that the demand conditions are weakening and the economy is slowing down. Similarly, when the economic environment improves, small and medium businesses reflect quick changes in employment. Small and medium firms added 37,000 and 56,000 jobs, respectively, in September. Also, large companies showed a more cautious approach in hiring than the smaller companies.
Private sector employment data not only helps in understanding the labor market movements, but it also act as a guidance for the policyholders to initiate fiscal and monetary measures in the economy. With a rise in employment, the Fed may decide on the rate hike in their policy meeting towards mid-December 2015.
A rise in job opportunities boosts consumer confidence and drives growth in sectors like housing, retail, and leisure. Let's take a look how MBA (Mortgage Bankers' Association) mortgage applications turned out. It helps track housing developments.