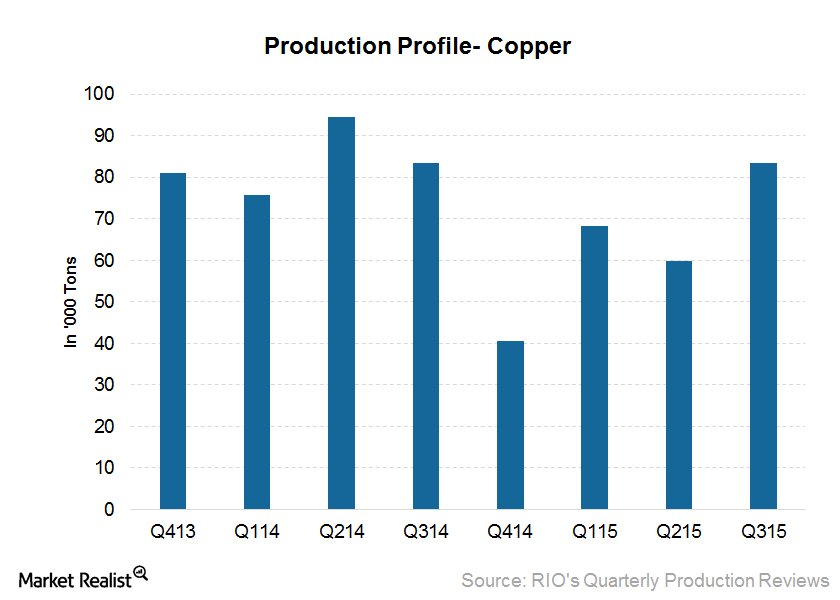 Why Rio Tinto's Copper Production Could Have More Downside
Copper operations
Copper volumes are key for companies that produce copper. In this article, we'll look at Rio Tinto's (RIO) copper production profile.
Article continues below advertisement
Copper production declined
Rio Tinto (RIO) has three main copper assets: Kennecott Utah, Escondida, and Oyu Tolgoi. Copper production at Kennecott for 9M15 came in at 66,300 tons, which is 64% lower than 9H14. The decline is mainly due to de-weighing and de-watering going on at the site. The production in 3Q15, however, was 28% higher quarter-over-quarter (or QoQ), mainly due to higher grades.
On the other hand, mined production at Escondida was 10% higher in 9M15 year-over-year (or YoY), due to higher grades and throughput. 3Q15 production was 25% lower QoQ, mainly due to lower grades and a planned shutdown at Laguna Seca. Production in 3Q15 was also affected by water availability.
Production at Oyu Tolgoi in Mongolia also increased by 48% YoY to 48,600 tons for 9M15. Production in 3Q15 showed marked improvement, growing at 53% YoY to 18,800 tons. This is in line with management's comments last quarter. They stated that since mining has started moving to areas of higher grade in the open pit, copper production in the second half should be higher than in the first half.
Further downside?
De-watering and de-weighing at Kennecott are expected to continue for the second half of the year, weighing on full-year production as well.
For Escondida too, the second half is expected to be affected by the decline in grades and water availability.
Rio expects its share of mined copper to be around 510,000 tons. Previously, Rio had guided for its production to come in between 500 million and 535 million tons.
The ICSG (International Copper Study Group) estimates that the copper market should be balanced for 2015. This basically means that copper's supply and demand are expected to be roughly the same for this year. In its earlier forecast, the ICSG had estimated a production surplus of 360,000 metric tons for the current year.
A reduction in surplus would be positive for companies that produce copper, including BHP Billiton (BHP)(BBL), Freeport-McMoRan (FCX), Teck Resources (TCK), Southern Copper (SCCO), and Turquoise Hill Resources (TRQ). FCX forms 3% of the SPDR S&P Metals and Mining ETF (XME) while RIO forms 1.7% of SPDR S&P Natural Resources ETF's (GNR) holdings.
For more on copper, visit Market Realist's Copper page.