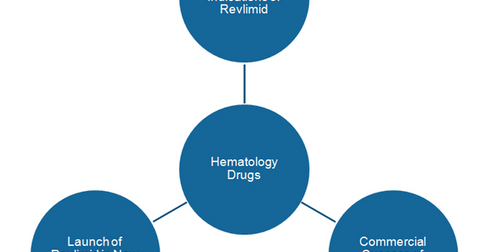 Revlimid and Pomalyst Expected to Drive Revenue in 3Q15
By Margaret Patrick

Updated
Revlimid
With $3 billion sales in the first half of 2015 and $5 billion sales in 2014, Revlimid is expected to be a key product driving Celgene's (CELG) revenues and profit margins in 3Q15. Revlimid's revenue growth in the United States is expected to be steady. As Celgene continues to launch the drug in several countries in Europe, the uptake of Revlimid in international markets is expected to be steep in 3Q15.
Article continues below advertisement
Expanded indications of Revlimid
Originally approved as a second-line multiple myeloma (or MM) therapy, Revlimid was approved as a first-line therapy for newly diagnosed MM patients by the Food and Drug Administration (or FDA) on February 18, 2015. Though not expected by the company, this approval proved to be a major factor driving revenues in the United States in 2Q15, a trend is expected to continue in 3Q15.
Based on data presented in 56th American Society of Hematology's (or ASH) Annual Meeting and Exposition, Revlimid continues to be the backbone therapy for MM. The drug is a tough competition for other MM drugs such as Amgen's (AMGN) Kyprolis (through Amgen's subsidiary Onyx Pharmaceuticals), Novartis's (NVS) Farydak, and Velcade, co-developed by Millennium Pharmaceuticals and Johnson & Johnson (JNJ). To know more about Revlimid's indications and market size, please refer to Celgene's Competitive Edge in Multiple Myeloma.
Launch of Revlimid in new markets
In addition to US markets, Revlimid has been approved as a first-line MM therapy in Germany, Austria, and a few Scandinavian countries in Europe. The company gained market share rapidly in the German market in 2Q15 and is expected to witness high patient volumes in 3Q15.
As reimbursement procedures differ in the various European countries, Celgene has been actively negotiating for pricing and reimbursement in these markets. Since Revlimid is already present in these markets as a second-line MM therapy, the company expects to be successful in its negotiations for expanded indication. The company expects to gain partial benefit from these approvals in 2016, and full benefit in 2017.
Commercial success of Pomalyst
Pomalyst has proved to be a successful third-line MM therapy in the United States. In 2Q15, the drug completed reimbursement negotiations in Japan. This, combined with other anticipated EU (European Union) reimbursement approvals, is expected to support long-term commercial success for the drug.
On April 23, 2015, Celgene announced that the updates of Pomalyst's label, including progression-free and survival benefits, were approved by the FDA in the United States. This approval potentially further strengthened the drug's brand, and has led to an immediate commercial advantage for the drug.
Celgene accounts for 1.8% of the total holdings of the PowerShares QQQ ETF (QQQ).