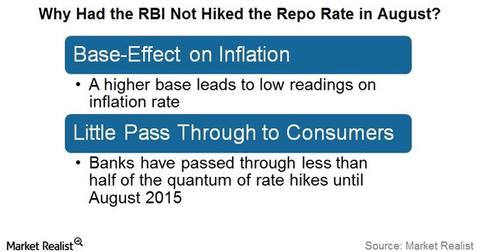 Why the Reserve Bank of India Cut the Repo Rate So Drastically
By David Ashworth

Updated
Could you ask for more?
The RBI (Reserve Bank of India), helmed by Raghuram Rajan, took markets by surprise when it reduced the repo rate by a sharper-than-expected 50 basis points on September 29, 2015. With this action, the repo rate was reduced to 6.75%, while the reverse repo rate and the MSF (marginal standing facility) were reduced to 5.75% and 7.75%, respectively.
The last time the repo rate was at that level was on May 2, 2011. At this juncture, it's safe to say that financial markets in India couldn't have asked for more.
However, the question remains: Why did the RBI effect such a sharp reduction in the repo rate? Was the RBI behind the curve and trying to catch up?
Article continues below advertisement
Was the RBI behind the curve?
Demand for a rate cut has been going on throughout 2015. And while the RBI has been reducing rates since January 2014, some participants have opined that the central bank has not delivered what has been required of it at the time it was the most warranted.
However, it can be argued that the RBI has not been behind the curve because of two reasons:
the base effect on inflation readings
less proportionate pass-through of past cuts to consumers
Inflation is much lower compared to its January 2016 target of 6.0%. This has been the major reason behind the demand for repo rate reductions. However, a lot of the low inflation growth has to do with a high base on which the rate is calculated, which gives the perception of low inflation.
Further, according to the RBI, banks (IBN) (HDB) have passed through only about 30 basis points of the 75-point reduction in the repo rate up to August 2015. There's little point in the central bank continuing to reduce rates while banks pass through only a fraction of the same to consumers, especially when the financial system is not in urgent need of a cut.
Apart from banks, tech majors like Infosys (INFY) and Wipro (WIT) also keep an eye out for monetary policy changes. Policy level changes could potentially impact mutual funds like the Wasatch Emerging India Fund (WAINX) and the Franklin India Growth Fund Class A (FINGX).
In the next article, let's look at why the RBI took this aggressive rate action.