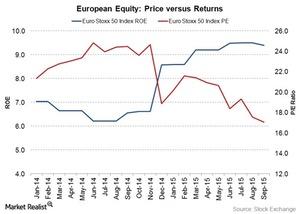 Relative Value in Europe: More Stimulus to Boost Corporate Equity
By Surbhi Jain

Oct. 30 2015, Published 11:50 a.m. ET
Stimulus should spur corporate profitability
The ECB (European Central Bank) has been providing monetary stimulus to the European economy with the intention of creating a favorable growth and investment environment for domestic corporations. If the economy improves, investors expect that rising corporate profits will boost European stocks (FEZ) (VGK).
As stated by Bill Gross in his Investment Outlook for 2015, "The eurozone is a low-flying plane that constantly hits air pockets. This causes occasional lifts and near-death experiences. A falling euro and the prospect of more monetary stimulus support European equities and credit sectors."
Article continues below advertisement
Eurozone equity has an upside potential
Take a look at the above graph. Eurozone equity has a lot of potential to surprise investors on the upside. While the PE (price-to-earnings) ratio has been trending downwards, the ROE (return on equity) has been rising. With its prices at rock-bottom levels due to the Greece and China crises, the area holds a good amount of upside earning potential, with more monetary stimulus on its way. We've seen how the March bond-buying package really helped European equity surge up to June.
Key points strengthening the case for relative value in Europe
The ECB's Asset Quality Review has helped build confidence in the region's rickety banking system. Banks in the region such as National Bank of Greece (NBG), ING (ING), Banco Santander (SAN), and Barclays (BCS) stand to gain as the financial system strengthens.
The European currency, the euro, has depreciated by more than 5% since March, benefiting European exporters. With more easing on the horizon, the euro could slump further, magnifying exporters' gains as their products become more competitive in international markets.
The inherent fundamental strength of the European economy and cheaper energy prices should continue to help boost European corporate earnings. As long as European corporate fundamentals remain strong and earnings continue to rise, the European stock markets should have favorable news for investors going foward.
Let's now move on to assess whether Japanese equity markets hold any promise.