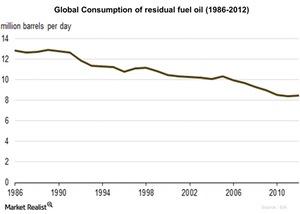 Why RFO Regulations Force Dependence on LNG
By Manu Milan

Oct. 12 2015, Updated 9:28 p.m. ET
What drives RFO demand?
Decreased use of RFO (residual fuel oil) for power generation and space heating
According to the EIA (U.S. Energy Information Administration), large reductions in RFO demand will likely come from decreased use of RFO for power generation and space heating. In the power sector, the cost of pollution controls, maintenance, and RFO heating often offset the lower cost of RFO compared to natural gas and other more expensive fuels. As a result, the power sector's demand for RFO, especially in industrialized countries, is expected to decrease. However, RFO will serve as a transitional fuel in the power sectors of developing countries that may be more sensitive to price and less sensitive to environmental and health implications.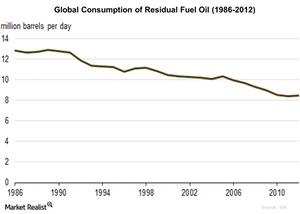 Rules set by the International Maritime Organization
According to the EIA, another significant reduction in the RFO demand may come from the implementation of rules set by Annex VI of the International Maritime Organization through the International Convention of Pollution from Ships—MARPOL (marine pollution).
Article continues below advertisement
LNG as alternate fuel for RFO
Some marine transportation operators are considering LNG (liquefied natural gas) as an alternate fuel for RFO. Transportation operators use LNG if ships operate along routes where LNG is available.
Impact of transforming from RFO to LNG usage
How the regulations impact refiners
According to MARPOL regulations, the sulfur content in RFO should be minimal in order to make RFO cleaner and lighter. Refiners require some extra equipment. This involves some cost so that refiners' margins go down, but they can cope with the rising demand for LNG. Refiners include Marathon Petroleum (MPC), Phillips 66 (PSX), and Valero Energy (VLO), Chevron (CVX), and Tesoro (TSO). Together, they account for 24.9% of the Energy Select Sector SPDR ETF (XLE).