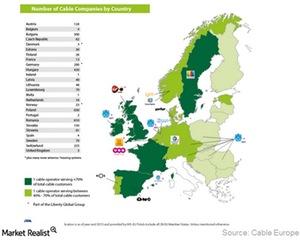 Quadruple Play and the European Cable Industry
By Shirley Pelts

Nov. 20 2020, Updated 3:50 p.m. ET
European Cable industry
It's important to look at the European cable industry in light of Altice's acquisition of Cablevision (CVC). Altice has stated that it hopes to replicate Europe's "quadruple play" model in the United States. Quadruple play is the bundling of high-speed Internet, television, land line, and mobile service in one package.
Currently, in the United States, companies such as Comcast (CMCSA) and Verizon Communications (VZ) offer only triple play—bundling of high-speed Internet, television, and voice services.
Article continues below advertisement
In Europe (EFA), the quadruple play model has seen great success in countries such as France and Spain. A quadruple play model offers customers the enticing option to reduce their communication bills by bringing high-speed Internet, television, land line, and mobile service under one umbrella. For companies such as Orange (ORAN), which offers quadruple play options, this strategy reduces customer churn, as the customers tend to get "locked in" under one plan.
However, in countries such as the United Kingdom, where mobile service is already low cost, a customer may be reluctant to make the switch to quadruple play, as the resultant cost savings in telecommunication bills may not be significant.
Quadruple play can help a company drive up ARPU (average revenue per user), but this also depends on the network buildout costs of the company. For example, for a company such as Google (GOOG), which has only recently started building out its fiber-optic network, the costs for laying out the network are high, and some of these costs can be passed on to customers. Currently, Google Fiber offers high-speed Internet and television services in only some US cities.
Article continues below advertisement
European cable industry undergoing consolidation
Currently, the European cable industry is undergoing consolidation as there are a large number of regional players or smaller players in the European Union. According to a Cable Europe report, there are 6,000 operators within the European Union. The same report also states that this trend of consolidation would help the cable industry to better withstand competition from OTT (over-the-top) players such as Netflix (NFLX).
You can gain diversified exposure to Netflix by investing in the SPDR S&P 500 ETF (SPY), which invests 0.26% of its holdings in the stock.
However, the European Commission, a telecom regulatory authority, has also raised objections to mergers such as the proposed merger between Danish telecom majors TeliaSonera (TLSN) and Telenor (TELNY), which was opposed on the grounds of possible anti-trust violations and higher prices for the customer.