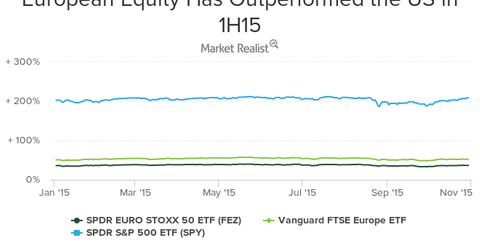 More QE, Cheaper Euro Will Benefit Investors in European Equity
By Surbhi Jain

Updated
Quantitative easing in Europe has benefited equity
With the ECB's (European Central Bank) quantitative easing program that buys 60 billion euros of bonds per month, in effect since March 2015, economic indicators in the Eurozone have definitely struck a positive note. Investors in the Eurozone have been expecting positive returns from the area. The ECB's bond-buying program, intended to spur economic activity in the Eurozone, boost inflation, and rescue the economy from deflation, is currently scheduled to continue until September 2016.
Article continues below advertisement
Europe to receive more QE
The September ECB meeting did hint at more quantitative easing for the Eurozone. The global uncertainty, augmented by the economic slowdown in China, is evidently having its repercussions on developed (EFA) as well as emerging markets (EEM).
Economic indicators in the Eurozone, which has been following a positive trend so far, seem to have lost steam. Growth figures have stagnated, inflation is caught in a lull, and unemployment still remains high at 11%. After remaining in positive territory for most of the second and third quarters this year, the inflation rate fell back to -0.1% in September. Economic indicators definitely warrant additional measures from the ECB to revive the economy.
Investors in European equity stand to benefit
Recently, the markets received a dovish statement from the ECB pursuant to its October meeting. At that meeting, ECB chief Mario Draghi indicated that the central bank could expand the quantitative easing program in the meetings ahead. Its stance to maintain the key rate at its zero lower bound level sent the euro down further. A cheaper euro stands to benefit export-oriented businesses and multinationals in the Euro area such as Horizon Pharma (HZNP), Weatherford International (WFT), and Nokia (NOK).
With the existing and additionally envisaged monetary easing measures in place, European equity and those invested in it should stand to gain.