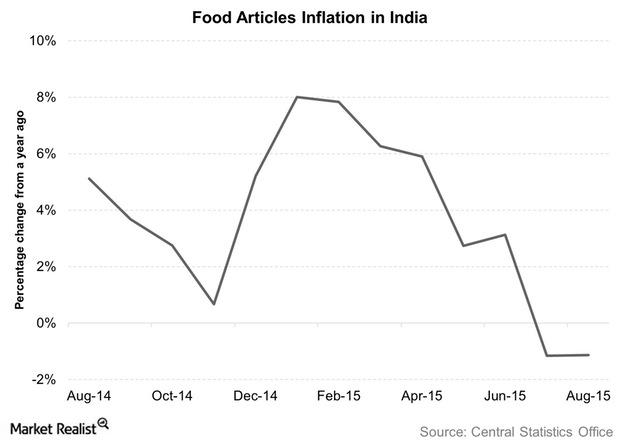 The Projected Path of Consumer Price Index Inflation in India
Where does the RBI think inflation is headed?
The slow pace of the consumer price index inflation in India was one of the reasons that the RBI (Reserve Bank of India) cited for a reduction in the repo rate. This leads to the question: How is inflation expected to pan out going forward?
According to the RBI, consumer price index inflation is expected to begin rising in September 2015 and continue rising for a few months as the favorable base effect wears off. What the central bank means here is that a high base, or a high consumer price index reading, over the past year has been keeping the interest rate low. This is so because the pace of inflation is measured from the change in the consumer price index for a particular month in relation to the same month a year ago. This high base effect will start to wear off beginning in September, thus resulting in a rise in the inflation rate.
Article continues below advertisement
Food inflation is key
India's central bank will closely monitor developments in food inflation. A fall in this segment has played a key role in keeping the overall consumer price index inflation under check. The RBI praised the efforts of the central government in managing food supply. As a result of these efforts, food inflation did not spike even after an uneven and deficient monsoon. The central bank further emphasized "proactive supply-side management by the government" to alleviate food price pressures in the future, if any.
The RBI said that small increases in minimum support prices by the government should keep inflation among grains under control while restrained international food price inflation "should continue to put downward pressure on the prices of sugar and edible oil."
Inflation should be closely watched by investors in India-focused mutual funds like the ALPS|Kotak India Growth Fund Class A (INDAX) and the Franklin India Growth Fund Class A (FINGX). As of the end of August, FINGX had holdings in companies like Dr. Reddy's Laboratories (RDY), Tata Motors (TTM), and HDFC Bank (HDB), which formed a combined 12.7% of the fund's portfolio.
In the next article, we will examine the likely impact of the repo rate cut on borrowers.