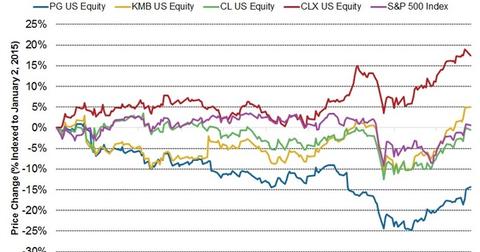 Procter and Gamble's Stock Gained Momentum after 1Q16 Results
By Penny Morgan

Updated
Stock price movement
Procter & Gamble's (PG), or P&G's, stock price rose after it released earnings. The stock price rose 2.9% to $77.03 on October 23, 2015, after results were released. Procter & Gamble's stock has consistently fallen since the beginning of 2015. However, the stock was able to sustain some of the gains until September. It fell almost 17.2% to $68.06 on September 14, 2015, from $82.24 on July 17, 2015. The fall was primarily due to currency headwinds and the fall in global markets, particularly in the Asia-Pacific region. Although P&G has recovered since then, it's still far from its 2015 peak of $91.62 achieved on January 22.
Article continues below advertisement
Dividend payment
P&G also declared a quarterly dividend of $0.66 per share on October 13, which will be payable to its shareholders on or after November 16, 2015. For fiscal 2015, P&G increased the dividend for the 59th consecutive year. It returned $11.9 billion in cash to shareholders in fiscal 2015, 105% of adjusted net earnings. P&G intends to pay dividends, retire shares, and repurchase shares worth up to $70 billion over the next four years.
The dividend payout for P&G and Kimberly-Clark for the trailing 12 months is the highest in the peer group at 85.1% and 85.2%, respectively. Colgate-Palmolive and The Clorox Company (CLX) have dividend payout ratios of 59.6% and 64.2%, respectively.
Reduced agencies
The company has reduced non-manufacturing overheads by 23% and aims to meet a revised target of 25% to 30% by the end of fiscal 2017. It aims to strengthen marketing with less overall costs. As part of this strategy, it has reduced its agencies by 40% and cut agency and production spending by $0.3 billion. This will enable P&G to invest in working media and sampling dollars.