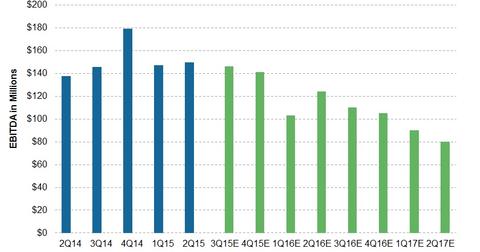 Pacific Drilling's Projected EBITDA: a Vision of the Future?
By Sue Goodridge

Updated
Analyst estimates for EBITDA
As we discussed previously in this series, Wall Street analysts expect to see a dip in Pacific Drilling's (PACD) 3Q15 revenues. Analysts expect costs to remain similar to costs in 2Q15, but they estimate a lower 3Q15 EBITDA (earnings before interest, taxes, depreciation, and amortization) for the company compared to its 2Q15 EBITDA. For the remaining half of 2015, analyst EBITDA estimates for Pacific Drilling stand at $287 million—a level well within the company's guidance of $278–$318 million.
Article continues below advertisement
At the end of 3Q15, analysts expect the company's EBITDA to be $514 million over the following four quarters, compared to $651 million in the preceding four quarters. Although analysts expect Pacific Drilling to win new contracts, the company's fundamentals are expected to remain weaker in 2016 and early 2017 because quarterly EBITDA is projected to fall to $80 million in 2Q17.
EBITDA margin compared to peers'
Pacific Drilling (PACD) has consistently recorded a higher EBITDA margin than the average EBITDA margins of the following offshore drilling (OIH) peers:
Article continues below advertisement
Explaining PACD's declining EBITDA estimates
One of the company's contracts will roll off in 4Q15. The second will roll off in 3Q16, the next in 4Q16, and one more in 2017. Analysts thus estimate that the number of active rigs in the fleet will remain constant. But they probably expect that any new contracts would be awarded at lower day rates.
Previously in this series, we discussed increases in the Pacific Drilling's expense-to-revenue ratio. Due to this trend, we should also note the declining trend in EBITDA estimates. The addition of an uncontracted new rig, the Pacific Zonda, to its existing fleet should further reduce EBITDA as well.
Worst case scenario
The company projects that, even without a single new contract, Pacific Drilling will record a positive EBITDA in 2016 as well as in 2017. But the main question remains: How positive?
As we've previously discussed, in the case of no new contracts, the company's revenue and expenses in 2016 would be $715 million and $319 million, respectively. This gives us an EBITDA of $397 million in 2016—less than 10% of analyst estimates.
This means that the most optimistic EBITDA estimate for 2017 is still 80% higher than the $69 million EBITDA the company would record without any new contracts in 2017. But this $69 million EBITDA calculation comes from the estimates of $280 million in revenues and $210 million in expenses. Our calculated EBITDA could still be somewhat overestimated, however, because we're not even taking into account expenses for onshore support offices and expenses for onshore supervision staff.
In the next part of this series, we'll look at Pacific Drilling's newbuild delivery in 2015.