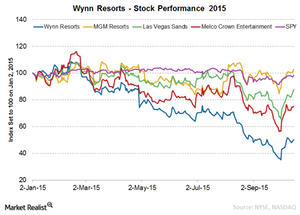 Overview of Wynn Resorts in September and October
By Ally Schmidt

Updated
Stock slips during a weak quarter
The third quarter earnings call from Wynn Resorts (WYNN) disappointed investors. The company's already weak stock fell by more than 7% in after-hours trading after the call. During the three months of the quarter, the casino operator's stock had already fallen by more than 50%. This weakness was also seen throughout the other key stocks in the gaming industry, but to a lesser extent. The Las Vegas Sands (LVS) stock fell by 28%, Melco Crown Entertainment's (MPEL) fell by 30% while MGM Resorts' (MGM) stock rose ~1%.The broader market (SPY) fell by 7% during the same time period.
Article continues below advertisement
Falling revenues
The main reason behind the negative sentiments is the falling revenues caused when the Chinese government launched an anti-corruption crackdown in Macao. Of note is that Macao is the only place in China where gambling is legal. The Chinese government has been monitoring debit cards in the region, and has installed cameras in VIP rooms, limited the number of tables allotted to new projects, and also put a ban on smoking in many areas.
However, Wynn Resorts has seen almost double the fall of its closest competitors. This is because the company has properties only in Las Vegas and Macao. As Wynn Resorts derives the majority of its revenue, or 62%, from Macao, it might face higher risk of weakness due to issues in the Chinese region. The company also said that it's not sure what the environment is going to be like in the future. This could further lower investors' confidence.
Article continues below advertisement
Why did the Stocks recover in October 2015?
Casinos stocks saw a huge rebound since October 2, 2015, after the Chinese government announced its support to the Macao economy. As Wynn Resorts could stand to gain the most from a strengthening Macao economy, the stock was also one to see the highest gain in October, rising 37%. However, the disappointing results and management commentary brought some of the weakness back post results, as already discussed above.
About Wynn Resorts
Wynn Resorts Limited is a developer and operator of high-end hotels and casinos. The company currently operates four major properties. They are:
Wynn Las Vegas Resort & Country Club
Wynn Macau Resort
Encore at Wynn Las Vegas
Encore at Wynn Macau
The company is on the verge of opening a new property in Macao on March 25th, 2016. Its key competitors consist of Melco Crown Entertainment Limited (MPEL), Las Vegas Sands (LVS), MGM Resorts (MGM), and other gaming majors.