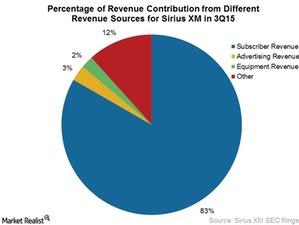 Outlook for Sirius XM in 2015
Subscriber additions in 2015
On October 22, 2015, Sirius XM (SIRI) announced its 3Q15 earnings. The company had total paid subscribers at an all-time high of 29 million in 3Q15. Based on the strong paid subscriber numbers in 3Q15, the company has increased its subscriber guidance for the third time this year.
Sirius XM expects total net additions of subscribers of 2 million in 2015. The company's subscribers consist of self-pay subscribers and paid promotional subscribers. Out of these 2 million net additions in 2015, Sirius XM expects net additions of 1.6 million for its self-pay subscribers in 2015.
Article continues below advertisement
The company expects 300,000–400,000 total net additions to come from higher automobile sales and production penetration. This is a result of Sirius XM bundling a trial paid subscription to its service in car sales or when a vehicle is leased out by car rental companies. Sirius XM had total net additions of 525,000 subscribers in 3Q15.
As the chart above indicates, 83% of the company's revenues of ~$1.2 billion came from subscription revenues in 3Q15. The company's advertising business contributed only 3% to the company's total revenues of $1.2 billion but had a high growth rate of 31% over the same quarter last year.
The high growth in the advertising business was due to the company's shifting focus to non-music content. It full-time news and talk channels include the Blaze Radio Network, NPR Now, FOX News Headlines 24/7, and C-SPAN Radio. Its live sports programming covers Major League Baseball, the NFL, the NBA, and the National Hockey League, as well as NASCAR and soccer.
Article continues below advertisement
Forecast for 2015
Sirius XM expects 2015 revenues of $4.5 billion. It expects adjusted EBITDA of $1.65 billion and free cash flow of $1.3 billion in 2015.
The company had the highest EBITDA margin in a single quarter of 38.2% in 3Q15 and expected to move gradually toward 40% plus EBITDA margins. The company intends to achieve this by focusing on increasing its revenues while controlling its costs and being cost-efficient.
New initiatives
Sirius XM is further expanding its connected car business by entering into a long-term agreement with Toyota Motor (TM) to provide Sirius XM's connected car services. The company expects to enter into more such agreements with automobile companies this year. The company is also developing the SXM 17 platform that would combine two-way mobile connectivity and Sirius XM's satellite broadcast platform.
Technology is rapidly evolving toward autonomous cars like Alphabet's (GOOG) self-driving car project. Keeping this in mind, Sirius XM is developing chipsets that could be fitted in such cars by 2020.
You can get a diversified exposure to Sirius XM by investing in the PowerShares QQQ Trust Series 1 ETF (QQQ) that holds 0.42% of the stock. QQQ also holds 8.48% of Microsoft (MSFT).