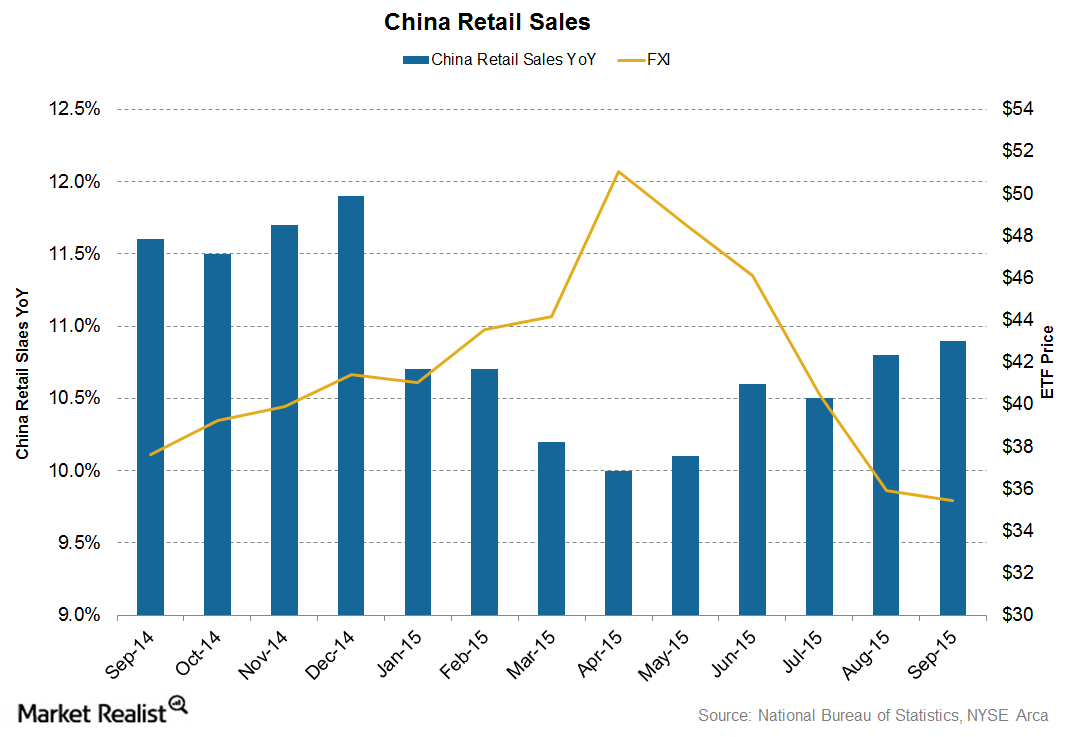 Online Sales Boosted Chinese Retail in September
By Lara Sheldon

Nov. 20 2020, Updated 4:19 p.m. ET
China retail sales up by 10.9% in September 2015
According to the National Bureau of Statistics of China, retail sales reached 2,527.1 billion yuan, up by 10.9% in September as against 10.8% in August 2015. The iShares China Large-Cap ETF (FXI) was up 2.6% from a year ago as of October 19. China Xiniya Fashion Limited (XNY) lost 43.1%, whereas China Mobile Limited (CHL) gained 4.5% over the same period.
Article continues below advertisement
Retail sales jumped in rural areas more than in urban areas
Retail sales in rural areas rose 380.3 billion yuan, up by 12.1% year-over-year. In contrast, retail sales in rural areas rose by 2,146.8 billion yuan in September, up 10.7% year-over-year. In terms of different consumption patterns, catering services saw a 12.1% jump in September, increasing 272.1 billion yuan from a year ago. Retail sales of goods rose 2,254.9 billion yuan, up by 10.7%.
Online retail sales are picking up in China
Online retail sales of goods and services were up 2,591.4 billion yuan, increasing 36.2% year-over-year. Of that, the online retail sales of physical goods totaled 2,151.0 billion yuan. Online retail sales jumped 34.7%, accounting for 10.0% of the total retail sales of consumer goods. The online retail sales of non-physical goods were 440.4 billion yuan, a rise 43.6%. Of the total online retail sales of physical goods, food, clothing, and other commodities went up by 42.7%, 26.3%, and 37.7%, respectively.
Internet retailers Alibaba (BABA), 500.com (WBAI), and China Dangdang (DANG) have lost 20.1%, 32.7%, and 42.2%, respectively, over the past year as of October 19. An uptick in Chinese retail sales is a positive sign, as it implies that domestic demand is rising with better consumer sentiment and may boost growth in the struggling economy.
For more information, read China's Growth Rate Fell below 7% in September. For the latest updates on the economic front, refer to our Global ETF Analysis page.