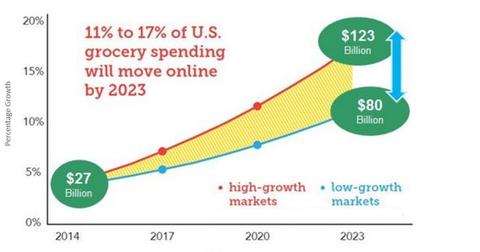 Online Grocery Retail: A Future Sales Driver for Kroger
By Sonya Bells

Updated
Food retailers add technology and online capabilities
Food retailers are increasingly using technology to improve their customers' shopping convenience and frequency in order to improve their sales and stay competitive. Companies are expanding their prepared food and to-go offerings.
Online ordering is expected to rise as it appeals to retailers' convenience-seeking customers. According to data from Brick Meets Click, online grocery sales as a percentage of total grocery sales is expected to increase from 4% in 2014 to 11%–17% in 2023.
Kroger and its peers, which include Ahold, Delhaize, Whole Foods Market Inc. (WFM), and Walmart Stores Inc. (WMT), are rolling out delivery and pickup services. Some retailers like Walmart allow consumers to place orders online and pick up their groceries at the store in select markets.
Article continues below advertisement
Nontraditional, traditional grocery retailers compete for online market
Online ordering may become a double-edged sword for traditional retailers as other online players are trying to create a niche for themselves in the still-nascent online grocery market. Amazon (AMZN) is expanding AmazonFresh to more cities and offering delivery services.
Traditional grocery retailers are following different models to expand in the online market. Kroger (KR) and Walmart (WMT) have invested in creating their own systems for online ordering and at-home delivery or in-store pickup. Whole Foods Market (WFM), Fairway Market, and Roundy's have opted to create partnerships with companies such as Instacart and Google Express.
Kroger builds online capabilities
Kroger trailed its peers in its e-commerce efforts. However, its recent acquisitions of Harris Teeter, Vistacost.com, and You Technology should help close the gap. The company spent $2.4 billion to acquire Harris Teeter and $287 million to acquire Vitacost.com.
Kroger is currently testing Harris Teeter's model of ordering merchandise online and picking it up at the store in Cincinnati. The company plans to expand this model to other markets in the coming year. The company has more than 15 million digital account customers.