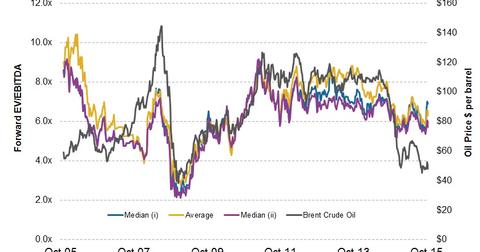 Offshore Drilling's EV-to-EBITDA Rises: Will It Fall Again?
By Sue Goodridge

Updated
Current industry valuation
As of October 23, 2015, the average offshore (OIH) drilling industry valuation multiple stood at 6.35x with a median of 6.90x. This is at a mid-level compared to the highest and lowest forward EV-to-EBITDA (enterprise value to earnings before interest, tax, depreciation, and amortization) of 9.94x and 2.86x seen in 2006 and 2008, respectively.
Article continues below advertisement
Valuation multiple driver
The forward EV-to-EBITDA reflects what investors are willing to pay for the next four quarters of estimated EBITDA. In the offshore drilling industry, we believe it reflects the perceived riskiness of investing in offshore drilling companies as well as investors' expectations for the industry's outlook.
Our analysis
Since 2009, we've observed that the industry's valuation multiple has closely followed crude oil prices. If we were to use oil prices as a proxy for the industry's future profitability—a common metric used to measure risk and outlook—and consider where oil prices are currently trading, the valuation looks expensive.
Article continues below advertisement
Will valuation multiples fall?
Over the last month, valuation multiples have risen. A few companies were awarded new contracts, which brought positive sentiments among investors, and share prices rose. But these positive sentiments can be short-lived.
Exploration and production companies have cut their spending for 2016, which will further hamper rig demand. Many offshore rigs are also expected to be delivered in 2016, which will further increase rig supply with either no change or a negative change in rig demand. With these risks, valuation multiples will probably fall further. But how much is the question?
How much can valuation multiples fall?
Oil prices are expected to recover, as today's prices are too low for many producers to generate economic returns. However, there's a problem. Industry experts expect oil prices to fall $50–$60 per barrel in 2016.
If the relationship between crude oil prices and the industry's valuation is linear, the offshore drilling industry's valuation should trade lower, from 4.0x–5.0x.
Based on these observations, a lower valuation multiple is more likely to occur over the next few quarters. This would be negative for companies such as Ensco (ESV), Diamond Offshore (DO), Rowan Companies (RDC), Noble (NE), Pacific Drillers (PACD), Seadrill (SDRL), and Transocean (RIG).